For Mori Grant Report
Children in Disaster Prone Areas:
Their Insecurities and Capabilities
(Caraga Region in Focus)
Michelle P. Dela Calzada
81026030
Graduate School of Media and Governance
Human Security and Communications Program
Introduction
During the conduct of the fieldwork in August to September 2011, the researcher visited a number of national line agencies including NEDA-CO, NEDA-Caraga Region, Office of Civil Defense (OCD)-Caraga Region, Department of Education (Dep-Ed) - Caraga Region, and National Statistics Office (NSO)-Caraga Region. The researcher also visited a number of local government units and local officials were interviewed including Barangay Agao, Buhangin and Mahogany of the City Government of Butuan City, Barangay San Juan of Surigao City, Brgy. Punta, Municipality of Pilar, Surigao Del Norte and Brgy. 8, Municipality of Dapa, Surigao Del Norte. Residents coming from the said communities were interviewed and workshops participated by children from the same places were conducted by the researcher. Interviews with teachers from the Agusan National High School in Butuan City were also conducted.
In the conduct of the fieldwork, the researcher had set the following objectives to be attained at the end of the fieldwork:
<![if !supportLists]>1. <![endif]>Finalize the specific areas to be covered in the conduct of the study (study sites);
<![if !supportLists]>2. <![endif]>Generate data on how children are impacted by disasters in their respective places;
<![if !supportLists]>3. <![endif]>Locate the current role/place of children in disaster management particularly at the local level;
<![if !supportLists]>4. <![endif]>Assess the awareness and knowledge of children on disaster;
<![if !supportLists]>5. <![endif]>Identify areas where childrenfs participation in the disaster management context can be maximized; and
<![if !supportLists]>6. <![endif]>Gather secondary data on past disasters in Caraga Region and collect relevant hazard maps.
Background on Caraga Region
Caraga Region is located in the Southern part of the Philippines, in the northeast section of Mindanao Island (See Figure 1. Location Map). It is composed of five (5) Provinces namely, Agusan Del Norte, Agusan Del Sur, Surigao Del Norte, Surigao Del and the Province of Dinagat Islands and four (4) Cities namely, Bislig City, Butuan City, Bayugan City and Surigao City. The Region covers a total land area of 1,913,842 hectares. This represents 6.4 percent of the countryfs total land area and 18.8 percent of Mindanao. Its total population as of 2007 was 2,293,346. Around 47% of its total population is children (population below 18 years old), which is slightly higher than the national figure of 46% (percentage of child pop'n in the Philippines). Caraga Region is one of the regions in the country that is prone to geological and meteorological/hydrological hazards. Based on the Caraga Regional Physical Framework Plan (RPFP) 2004-2030, storm surge, landslide, flooding, earthquake, tsunami, liquefaction and seiche are natural hazards to which the region is susceptible. Data from OCD-Caraga revealed that a total of 33 natural disasters have occurred in the region from 1999-March 2011 with flooding as the major cause of disaster occurring almost every year causing damage to properties and posing risk to the lives of people living in the high risk areas. Table 1 shows the effects of disasters in terms of number of persons affected and evacuated, casualties and cost of damage to agriculture and infrastructure, which are the indicators for monitoring whenever natural calamities occur.
Figure 1. Location Map and Map of Caraga Region
<![if !vml]>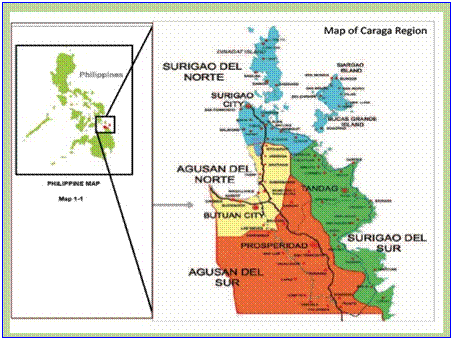 <![endif]>
It is also important to note that the poverty incidence of population in the Region in 2009 was around 47.8% (NSCB), which is the second highest poverty incidence in the whole country. This high poverty rate implies that communities that are affected by the disaster are even more disadvantaged and bouncing back after every disaster is not an easy task for them.
Table 1. Disaster Monitoring
Caraga Region, 1999 - March 2011
| | |
| --- | --- |
| Number of families affected | 121,874 |
| Number of persons affected | 626,397 |
| Families evacuated | 47,942 |
| Persons evacuated | 236,397 |
| Total no. of houses damaged | 25,357 |
| Partially damaged | 22,784 |
| Totally damaged | 2,580 |
| Casualties | 333 |
| Dead | 246 |
| Missing | 32 |
| Injured | 64 |
| Cost of damage to agriculture | US$ 110M (estimate) |
| Cost of damage to infrastructure | US$ 40M (estimate) |
Source: Office of Civil Defense –Caraga
Identification of the Research Sites (Process and the selected sites)
Initially the research site was limited to one (1) of the provinces of Caraga Region only, which is the Province of Surigao Del Norte. However, the researcher has decided to expand the area of coverage to include the whole region instead of one Province since the whole region is basically susceptible to the same natural hazards to that of the Province of Surigao Del Norte except for tsunami, which is unique to the Province of Surigao Del Norte. The researcher considered that the major natural disaster in the Philippine is flooding which affects many highly urbanized cities (HUCs) and capital of other region. Thus, by expanding the area of study one HUC will be included as part of the research site. Moreover, as the focus of the research is children and how they can participate in disaster management, a school located in Butuan City has been identified as Caraga Region's pilot school for the integration of Disaster RIsk Reduction (DRR) in the school curriculum.
Thus, the study sites shall include those that were initially identified in the first fieldwork and three (3) more barangays from Butuan City. As to the identification of the specific sites in Butuan City, the researcher consulted the City Disaster Risk and Reduction Management Office (CDRRMO) in mapping out high risk areas for flooding. Then during the interview with the barangay officials, specific areas within the barangay were identified as suggested by the barangay officials themselves and with the confirmation from the CDRRMO. Figure 2 depicts the final sites to be covered in the area, which include 3 barangays in Butuan City, one barangay each from Surigao City, Municipality of Dapa and Municipality of Pilar in Surigao Del Norte. The following are the study sites:
Butuan City - Barangays Agao, Mahogany : flooding, earthquake
and Buhangin
Surigao City - Barangay San Juan : flooding, tsunami, earthquake
Municipality of Dapa - Barangay 8 :flooding, earthquake, storm surge
Municipality of General Luna - Poblacion. : tsunami, flooding, earthquake,
storm surge
Municipality of Pilar - Barangay Punta : storm surge, flooding, tsunami, earthquake
<![if !vml]>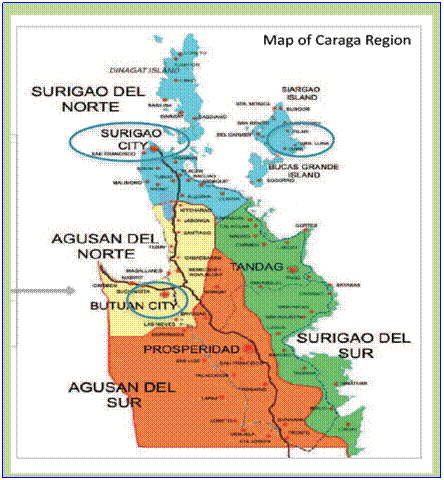 <![endif]>Figure 2. Fieldwork Sites
Interviews with the LGUs, key regional line agencies and teachers
In order to gather first hand information on how LGUs particularly at the barangay level respond to disasters and how children are viewed in the disaster management context, the researcher interviewed the Barangay Captain/Officials of all the identified study sites.
The researcher also interviewed three members of the Regional Disaster Risk Reduction and Management Council (RDRRMC), two (2) of whom came from the education sector and the other one is from the Secretariat of the Council, which is the Office of Civil Defense.
Interview with the residents (adult respondents) and interaction with children
The researcher was able to interview a total of 45 adult respondents coming from the identified research sites. 38 of whom were females. These respondents were randomly selected on the basis of their availability during the visit of the researcher. The barangay officials have also facilitated the entry of the researcher to these communities. The interview revolved around their daily activities, life situation and experiences whenever natural hazards occur and how they view children throughout the disaster management cycle.
All of the respondents relayed their experiences on flooding and some also talked about what happened when a tsunami alert level 2 was issued in Siargao Island. Many referred to their experience between the end of January 2011 to the end of February 2011 where heavy rains poured in the region which caused the swelling of Surigao River and Agusan River and resulted to massive flooding. Respondents coming from Butuan City have mentioned that for the last 10 years, the flooding which occurred sometime in February 2011 has been the worst so far and it took longer time for the water to subside and for them to go back to their own homes. Residents coming from the Province of Surigao Del Norte also expressed deeper sense of insecurity as the flood is getting worse and worse.
At least 15 children per barangay were gathered and first hand information were obtained through a workshop. The children participants in every barangay were divided into two groups and they were asked to answer sets of questions after a 15-minute lecture on disaster management was given. Representative/s from each group shared in plenary the group output at the end of every workshop activity. Questions coming from the researcher were also raised during their presentation to clarify their answers or some meaning of the words they used as they were given the freedom to answer the questions using their own language.
The results of the interviews with adult respondents and the data generated from children shall be integrated in the observations/findings section.
Observations/Findings
I. Impact of disasters on children
During the occurrence of disasters, the government through the Office of Civil Defense (OCD) conducts monitoring on the effects of disasters focused only on the number of lives lost and damage to properties, infrastructure and agriculture. Collateral damages which the residents have to deal with which oftentimes take longer time to address to be able to bounce back after a disaster are not given much attention. These impacts include those that have to do with children whose families are affected and whose personal spaces have been disrupted.
Childrenfs rights as contained in the United Nations Convention on the Rights of the Child (UNCRC) are broadly categorized into four (4) namely, survival, development, protection and participation. Disaster affects in one way or more each of the four categories, which are responded adequately or inadequately by the concerned LGUs, the community as whole and their respective families.
Survival Rights
This category includes the right to life and right to adequate health and nourishment, which is the heavily impacted children's right in times of disaster. Children are the first to suffer whenever their parentsf livelihood is affected. During disasters like flooding, the loss of livelihood (opportunity to work or damaged means of livelihood) is the immediate effect to every family and the longer the duration of a disaster or calamity the harder is it for the affected families to cope with the situation. Whenever flooding comes, work is suspended or the parents are unable to proceed to their usual means of earning a living (e.g. driving a tricycle, factory worker, fisherman, etc.). Thus, securing food is hard. Families resort to cutting on the number of meals each day just to make ends meet. They would even eat just porridge for the whole day just to stretch the rice they have until flooding ends. Others resort to borrowing in order to buy food, even just rice or root crops. The prices of basic commodities usually go up making it even harder for them to afford even the cheapest commodity. Thus, nutritional intake of already poor families is even more constrained. Other families end up selling whatever family asset they have to be able to buy food (rice or root crops, etc.) and/or to pay off pay off debts.
In evacuation sites, while the barangays with the support of the municipal government and civil society provide ration to the evacuees, nutritional needs of children particularly infants are not given priority. This is because the barangays or the LGUs have budgetary constraints and they need to prioritize the needs of the evacuees. They usually go for more number of people being giving sustenance than paying special consideration to the needs of the more vulnerable population such as children.
Water and sanitation is also a problem. Sources of potable drinking water are usually compromised. Thus, diarrhea and skin diseases become pressing concerns particularly among children who are easily affected due to their relatively weaker immune system. Diseases such as fever, colds and coughs are also prevalent. In one barangay the threat of schistosomiasis is a concern. Thus, children are given rain boots to protect them from contracting such disease especially during the raining season.
Other than the more tangible impacts, the children have also articulated one effect, which is not given enough attention both at the community level and by the government. The children respondents cited trauma as one of the effects of disaster to them and or to their family. In the Philippines, post disaster debriefing or other form of intervention to deal with the psychological impact of any disaster especially to those families whose family members passed away because of natural disasters or even at the time of disasters when children are displaced from their personal spaces is not common nor a recognized need. It is also a common response among mother respondents that children exhibit fear and anxiety whenever natural disasters occur or the threat of such disaster to escalate.
Development Rights
The development rights of children are also affected in terms of their access to education. Most of the schools of the fieldwork sites are located in areas that are highly susceptible to flooding, storm surge and even tsunami. Schools are supposedly potential evacuation sites in times of disasters but due to the location of these schools they cannot serve such purpose. More importantly, childrenfs right to education is hampered. Classes are suspended whenever flooding occurs which can run from one (1) day to one (1) month. Damage to school facilities including learning materials are the more immediate concerns school administrators have to deal with after every disaster. Much time is also being devoted in restoring the cleanliness of the school and in trying to salvage school properties including learning materials. Class interruption does not only affect childrenfs access to education but also deprives them of their chance to interact with their peers and friends in school and of being able to socialize in general.
It is also noted that in evacuation centers, which are usually local schools, gymnasium and churches, childrenfs right for recreation, is not given consideration. There is no manifestation of trying to recreate the environment of children where they can still play and interact with fellow kids even at the evacuation centers which can be helpful for them to cope with stress.
Protection rights
In times of disaster both parents and search and rescue teams usually prioritize children whenever evacuation is necessary. Parents prioritize the security of their children. Thus, whenever the water level rises they usually restrict their children from going out of the house. Although, there are still children who go out and play in the flood, local residents are confident that those children are aware of their limitations in terms of the level of the flood which they are not supposed to be going outside their homes. Such behavior is usually exhibited by children ages 12 years old and above, who apparently know how to swim as observed by the neighbors and parents.
II. How children are viewed in times of disasters and in disaster management
Adults largely dominate the Philippine disaster management cycle. Community based disaster management while being advocated needs further push to be more inclusive and to be more engaging of local residents. Currently, there is a move towards a more holistic approach to disaster rather than the usual rescue and response intervention. Disaster Risk Reduction is being mainstreamed in the development cycle. The Disaster Risk Reduction and Management (DRRM) Act of 2010 provisions that refer to children basically pertains to their protection and in recognizing them as a vulnerable sector with special needs and thus requiring special interventions (e.g. Ensure breastfeeding in the evacuation center). The said Act also provided for the integration of DRR and DRM in the school curriculum. However, this landmark legislation, which is a pillar on the Philippines' disaster management, does not (explicitly) recognize the potentials of engaging children in disaster management.
During the interviews conducted, differing views on children and their potentials as active agents in disaster management surfaced. Although the more dominant perspective on children is related to their vulnerability, there is also a specific group of adults who expressed their recognition and receptiveness on children's potential for involvement in disaster management. The barangay officials who are actively engaged in the community level disaster management (although mostly are still focused on rescue and response) unanimously share the same perspective on children. They view children as vulnerable, weak and they recognize the negative impacts of disaster on children. Parents also view children as vulnerable, weak and needs to be protected and secured in times of disaster. Nevertheless, they are aware of the (little) contributions of their children in the family during and after every disaster.
On the other hand, teachers who are involved in mentoring and capacitating children for civic/humanitarian activities and as emergency scouts unanimously recognized the potentials of children to be actively involved in disaster management. They cited the knowledge and skills children learned from school and in the organizations that they belong to (as members of the Red Cross Youth, Rover or Roverettes, Girl Scouts of the Philippines, Boy Scouts of the Philippines, etc.) as their leverage to be able to contribute positively in making their families and communities secure in times of disasters. The teacher in charge on DRR also believed that children who are trained in schools know what they are supposed to do in times of disasters.
III. Knowledge on disaster (including information flat forms)
The children who participated in the workshop have demonstrated their awareness on the different kinds of disaster both natural and man-made. Children in the urban areas are able to identify more disasters and are more precise on their identification (in terms of the name of a particular disaster) compared with those who lived in the island municipalities who tried to identified them not with the exact name of a particular event but by describing the event. Although there is a difference on how quickly and how much knowledge they have about disasters all children demonstrated their awareness. The following are the natural and man-made disasters that they were able to identify:
Table 2. Identified Natural and Man-made Disasters
| | |
| --- | --- |
| Natural | flooding, flashflood, tsunami, earthquake, landslide, tornado, volcanic eruption, storm, sand storm, mudslide, hurricane, tidal waves, el nino, la nina |
| Man made | fire, hostage taking, bombing, accident (car, airplane), wildfire, illegal logging, terrorism, massacre, ambush, dynamite fishing, electrocution, people buried because of the stockpile of garbage |
Flooding or flashflood, landslide and threat to tsunami are the natural disasters which the children had experiences in the past. In terms of sources of information, they commonly identified the school, radio, tv, parents and friends as the sources of information. There were groups that identified other sources of information, which they have access to, such as the internet and cellular phones. Cellular phones particularly text messaging is an important flat form of communication especially for children in the urban areas where cellular phones are widely used to exchange information when there is an impending natural disaster and as a means of maintaining contact even during disasters. They also cited that they gained knowledge on disaster through their own experiences.
Children's awareness on disaster can also be manifested through their knowledge on the impact of disaster to themselves and their families and to the community as a whole. The following are the impacts of disaster based on the experiences and perception of children:
Table 2. Impact/Effects of Disaster
| | |
| --- | --- |
| Self and family | people get sick/contract skin diseases (schistosomiasis, liptospirosis, cold, fever), trauma, suspension of work of their parents/no means of livelihood, hunger, need to evacuate, no potable water, difficulty in securing food, sources of livelihood will be destroyed, houses are destroyed, no income, death, cannot wash clothes, clothes will not be dried, cannot sleep, many things need cleaning, cannot harvest the crops, cannot plant due to drought, feel fear on what will happen next |
| To the community | Cancellation of classes and flights, paved roads (sand, asphalt and concrete) are destroyed, accumulation of garbage and mud, household wares will drift away and many appliances will be broken, garbage are everywhere, lack of supply of food in the market, no electricity and water supply, no access to public transportation (jeepneys or tricycle), roads become impassable, farmlands get flooded destroying the crops, animals drowned, schools are flooded and learning materials are destroyed/gets wet, difficult for the barangay officials to help many victims |
Children are aware of preventive measures that can be done at their end. They have identified the improper disposal of waste as one factor that contributes to the flooding in their area. Cutting of tress are also identified as another reason. Thus, children have awareness or knowledge on how to prevent disasters and what actions can contribute to the occurrence of disasters. These are basic lessons they learned from school.
IV. Sharing of knowledge
Children cited that they usually share their knowledge or what they learned from school to their friends, siblings (especially younger siblings) and to their parents. Between the mother and father, majority of the children cited their mother with whom they share their learnings and ideas. Primarily because the mothers are more accessible to the children since they are usually at home while the fathers are out working.
Based on the interviews with parents, children directly or indirectly share their knowledge or even teach them how things should be done especially if they learned it from school. Mothers said their children would sometimes correct them if they think their parents are wrong like how a word is pronounced, priorities in terms of spending the family income, etc. Majority of the adult respondents said that they welcome this kind of behavior because they recognize that parents don't have the monopoly of knowledge and they expressed their desire to also learn from their children considering that some of the children have higher education compared to their parents. Moreover, it is a way of engaging children to participate in the family affairs and to be more open to them. But parents also stressed the importance of conveying what the children know or learned in a respectful manner. This shows that the very traditional attitude that children are not supposed to correct their parents or participate in decision-making is changing. Today, parents are more open minded that they allow their children to voice out their concerns, share what they learned and even participate in decision making within the family. Children's openness or willingness to share what they know or learned is also determined by the closeness among family members or the willingness of the parents as well to listen to what they will say.
Children also showed liberty in sharing what they know/learned and experienced with their friends. The sharing happens when they are out playing or are gathered to meet up and discuss just about anything. In times of flooding, children also communicate through text for those who have cellphones and in the evacuation center when they move out of their homes. They share what they experienced with one another and discussed even their hardships whenever natural disasters occur. This particular exchange or interaction among children is very helpful in terms of coping with the situation. They feel comforted knowing that each one is making their own struggles. Since children are usually told to stay at home especially when the level of the water gets beyond the waistline level they also feel isolated from their friends.
It is also important to note that since children are usually tasked to look after their younger siblings, it provides an opportunity for knowledge sharing within the family. Older siblings can share what they learned to their younger siblings particularly in times of crisis.
V. Roles of children in times of disaster/in the disaster management cycle
In times of disaster the security of children is the outmost concern of their parents. Children are the ones being prioritized by their parents whenever the family needs to evacuate. Oftentimes, the father chooses to remain in the house as long as the water level is still tolerable to look after the family home and their belongings. On the other hand, children and the wife are sent to evacuation sites or to the house of their relatives to ensure their safety. Most of the time the safety and security of the children are the major considerations of parents in deciding whether to stay on or to evacuate whenever flooding occurs. There is deep awareness on the part of the parents that it is their obligation to secure their children.
Nevertheless, this does not mean that children are not participating in any way to contribute in securing the safety of their family and family properties (regardless of the monetary value). In times of disasters, the children respondents identified the following roles they perform or the activities they engaged in to assist their respective families:
| | | |
| --- | --- | --- |
| During the disaster | Male | assist in carrying things during evacuation, prepare food, firewood and drinking water, collect banana pseudostem to be used as raft, assist in draining the house with water, take care of siblings, put things in elevated area, does not plug in electric appliances to avoid electrocution, secure the animals, make temporary walkways, make a boat/raft, look for food (small crabs, frog, sea shells, fish), earn money by ferrying residents to higher grounds using improvised raft or as laborer, declogging of restrooms |
| | Female | Assist in household chores (cooking, folding and packing up clothes, washing clothes and dishes, cleaning the house, securing household wares), taking care of siblings, secure important papers, prepare water to be sold to neighbors, take a bath in the flood, gather food, listen to the news, communicate through text with others |
| After the disaster (rehabilitation) | | Help in cleaning the house, washing clothes and emptying the house with water and dirt, assist in restoring broken things |
Looking at the table, contrary to the traditional notion that in times of disasters children are just victims and vulnerable sector, they actually perform functions or certain roles to support their families and to respond to disaster even at the family level. While much of the activities they identified are basically domestic in nature (looking after their siblings, assist in cooking and cleaning, etc.) these are the activities that are necessary to ensure the security and safety of their families. Thus, it is important that when they perform such activities they are actually equipped with the right knowledge or information on how they can best ensure that how they do things will not expose them to other risk or hazards such as electrocution, water borne diseases, etc. Among the activities that male children do is to assist the fathers to find food for the family especially during the time when work are suspended or the usual means of livelihood cannot be performed. They do this by fishing in the river and some children (as also observed by other residents) actually earn money by driving/ferrying residents to higher grounds (not flooded area) from their homes using an improvised boat or raft. Children will walk through the flooded area while pushing the improvised boat or raft (made of wood or pseudostem of the banana) until they reach a much-elevated place where their client can get off and walk. They are paid approximately 10 yen per passenger. Children coming from economically disadvantaged families usually do this. The residents are actually tolerant to this activity as they benefit from such services and they believed that children who engaged in this activity are fully aware as to when they can and they cannot do such activities anymore. Apparently, children engage in this activity before the water level gets to the waistline level of adults (approximately 1 meter). So far there has been no casualty because of this activity although there are instances where children get hurt (e.g. stepped on a nail or broken glass). At the rehabilitation stage children help in cleaning the house by taking out mud, garbage, and other debris that got inside the house, restoring household wares and washing clothes. Much of the contributions that the parents are aware of and are usually given to children in order to help are domestic in nature.
While these are the current role children play at their respective homes whenever there are disasters, there are also children who are not in the affected areas helping to respond to disasters. The so called emergency scouts, who are trained and equipped with skills such as first aid, emergency response etc. are actively involved in the response and rescue operations of the authorities. This is much prevalent in the city area compared to the island barangays. While children are not deployed in the field for the actual rescue operations they are usually tasked to receive evacuees in the evacuation centers, assist in the distribution of goods, safe keeping and maintaining the order within the evacuation center, generation of relief goods coming from the private institutions or private individuals. Thus, more than just being confined in the domestic response, children (particularly high school and college students) are also engaged in response operations.
The traditional notion that disaster management is focused only on what is done in times of disaster also marred the recognition of childrenfs contribution in disaster management particularly in the pre-disaster stage. Children are actually involved in mitigation/prevention and preparedness related activities. Currently, the education sector is integrating Disaster Risk Reduction in the school curriculum. This integration is mandated under the DRRM Act of 2010. To be able deliver this mandate Dep-Ed has started to prepare modules that integrate various concepts and knowledge about DRR in the subjects being taught in high school. The Agusan National High School was the pilot school for Caraga Region. The said integration of DRR in the school curriculum is focused to 4th year high school and this shall be cascaded to lower years. The Department of Education has also prepared a manual for DRR. One subject, the Citizen Advancement Training (CAT) is conducting DRR lessons for 4th year students. The CAT meets once a week and among the priority topics is the DRR. The adviser of the CAT is also the DRR focal person for the school and has been trained on DRR. Conduct of training or drills are also being done as a regular disaster preparation measures in the schools. The most common drills being done are fire and earthquake drills for all schools. The Dep-Ed 13 usually issues a memorandum to all school divisions mandating the schools to conduct drills. However, the conduct of the drill is not really based on the prioritization of the hazard of the particularly area but a more generic directive. Even in the lectures provided in the CAT the module is being followed and not really on what is the more prevalent natural hazards in the area. Although this is not based on hazard prioritization, such drills/training is still helpful on teaching children how to behave whenever a particular hazard occurs.
It has been observed based on the interviews that there is no conscious effort to involve children in pre-disaster stage particularly at the barangay level. Not any of the children participants had any participation in hazard mapping or disaster response planning. Much more, their participation in decision-making is not considered.
VI. How can childrenfs participation be maximized?
The children have unanimously expressed the need to engage them in DRR/DRM and they expressed their willingness to be involved. Although they were given a very limited input on DRM/DRR they have identified possible contributions they can make based on their experiences and on their past understanding and the lectures given to them. Table No. 3 shows the responses of children in the other stages of the DRM cycle (flooding as the natural hazard):
| | |
| --- | --- |
| Prevention/Mitigation | Do not throw garbage anywhere (particularly in the river, in canals), don't cut tress, declogging of canals to avoid the spread of dengue fever, do not live in low lying areas, practice waste segregation, plant trees, keep the canals free of garbage, avoid the use of explosives and chemicals |
| Preparedness | Prepare food, firewood, clothes, water, candles, matchsticks, flashlight, and medicine kit, secure important things/documents, make ready the improvised raft/boat, secure the house (support structures to withstand current or water flow during heavy rains/flooding), be informed |
| Response | Evacuate when necessary (if the barangay issues an order to evacuate), do not panic, look after the household belongings, carry things during evacuation, monitor the weather and water level, do not go out of the house to avoid being hit by lighting, listen to the instructions of the parents, keep posted, follow the order of the barangay officials on where to evacuate |
| Rehabilitation | Restore the house (broken parts), put support structures to ensure that it is sturdy enough, make a two storey house, clean the roads, under the house, throwing of garbage and debris, bayahinhan, declogging of canals, plant trees again |
Based on the responses generated from the children, they have firm belief that they can do something for their families and their communities. There is also a strong sense of community among children since at the rehabilitation stage, the bayanihan concept emerged or have been identified all groups.
While participation of children in the disaster management can be a laudable concept, the children themselves identified a number of possible reasons why they cannot participate. They cited the following reasons: 1. Parents might not allow them to participate, 2. Busy with school/study, 3. Not interested, 4. No enough training (don't know what exactly to do) and 5. Occupied with other things (friends, computer games, watching soup opera, et.).
They also identified facilitating factors or prerequisites for them to be able to participate in DM. Table 4 shows the summary of responses.
Table 4. Responses on What Could Facilitate Children's Participation in DRM
Capability building through trainings and workshops, mobilization and organization of children through meetings, creation of IECs to relay information, enact local ordinances to institutionalize children's participation through the Sangguniang Kabataan, obtain more knowledge and information, support and guidance from the parents and barangay officials
The participants have identified the Sangguniang Kabaan (SK) or the Youth Council, which is the barangay legislative representative of children in the barangay who are elected by the children themselves (the political leaders of children in every barangay) as a key institution or mechanism in order for the children to be engaged in DRM. The SK has a big role to play and children look up to the SK officials since they are the representatives of children in the Barangay Council. The SK officials who are elected by children themselves in a way can easily mobilize the children. As can be seen in Table 4 the parents have a big say on weather the children will be able to participate in any DRM/DRR related activities or not. Thus, it is important that the parents are equally aware on DRM/DRM. When parents were asked if they are willing to allow their children to participate in DRM or any community based activity, the parents were positive about it but have also pointed a number of considerations. These include that they are well informed about the purpose of the activities, that it will contribute to the development of their children, that they will not be deployed in hazardous areas particularly in times of disasters as parents want their children to be intact whenever there is flooding etc., and lastly, it wont conflict with the studies of their children. Two parents also said they will allow their children provided that there are no other family matters that they need to attend to including helping the father in fishing etc..
Conclusion
Based on the information gathered in the fieldwork, children have the potentials to become active agents in disaster management. They have the basic knowledge and some skills that can contribute to a more holistic approach to disaster management. However, adults tend to ignore their capacities as they easily consider the lack of physical strength of children as a barrier without knowing and recognizing their skills and knowledge. Moreover, the focus on relief and response also marred the recognition of children's potential contributions. Adults particularly parents and even barangay officials need to realize that disaster management is not just about relief and response where admittedly children's participation could be very limited. Children can play more roles in the other stages of disaster management cycle such as in the mitigation, prevention, preparedness and rehabilitation stage. They can act as risk communicators and the possibility of knowledge transfer within the family can be taken advantage given that children are usually tasked to take care of their younger siblings and also because parents show more receptiveness or willingness to also learn from their children.
Next steps
To further make use and process the information gathered, the researcher shall continue to read literatures relating to children's participation in general and also about disaster management. It will be necessary to be able to have a good conceptual framework and analysis of the data.
References
Back, Emma, et. al. g Children and Disaster Risk Reduction: Taking Stock and Moving Forwardh. November 2009. http://www.savethechildren.org.uk/en/docs/Child_Led_DRR_Taking_Stock.pdf.
Bildan, Lolita. gDisaster Management in Southeast Asia: An Overviewh. Asian Disaster Preparedness Center, 2003.
Pandey, Bishnu and Okazaki, Kenji. gCommunity Based Disaster Management: Empowering Communities to Cope with Disaster Risksh.
Wisner, Ben, et. al., gAt Risk Natural Hazards, Peoplefs Vulnerability and Disastersh. 2nd Edition, 2003.
Disaster Risk Reduction Mainstreaming Guidelines. National Economic and Development Authority and World Bank, Manila Philippines, 2009.
Legacy of Disasters; Children Bear the Brunt of Climate Warming, Save the Children UK, 2007.
Disaster Risk Reduction-Enhanced Regional Physical Framework Plan 2009-2030, Regional Development Council Caraga, 2009.
Surigao Del Norte Provincial Development and Physical Framework Plan 2010-2030. Provincial Government of Surigao Del Norte, Surigao City, 2010.
Surigao City Land Use Plan 2005-2010. City Government of Surigao City, Surigao City, 2005.
Website
www.census.gov.ph
<![if !vml]>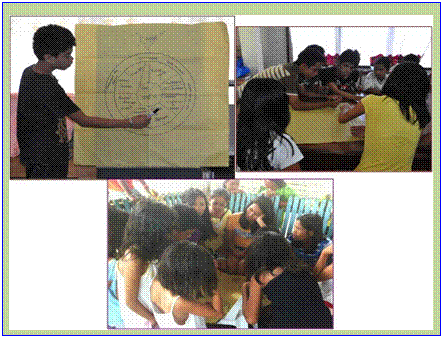 <![endif]>APPENDIX A: Children in Action
APPENDIX B: Flooding in Surigao Del Norte (late January 2011 to early February 2011)
<![if !vml]>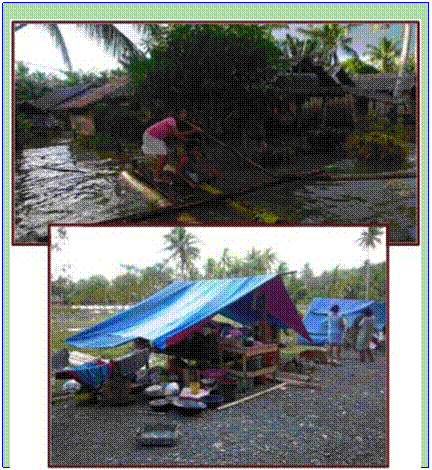 <![endif]>
APPENDIX C: Flooding in Butuan City (late February 2011 to early January 2011)
<![if !vml]>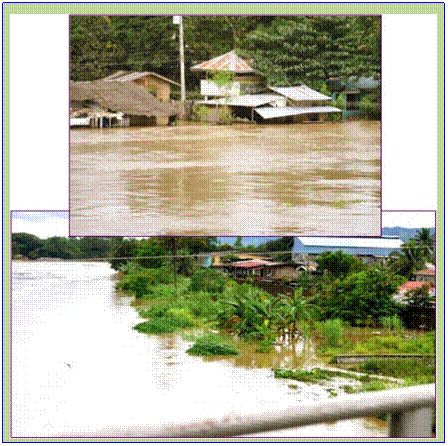 <![endif]>
APPENDIX D: Interviews with local residents and officials
<![if !vml]>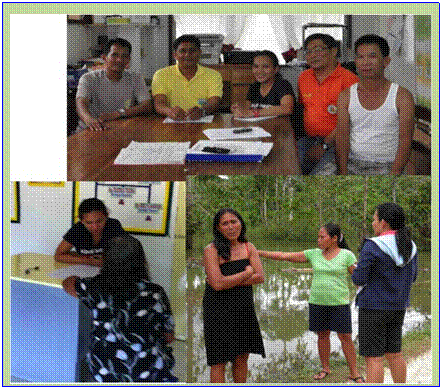 <![endif]>