Keio University
Shonan Fujisawa Campus
o0o
Detainees Insecurity in Mandaluyong Jail (Philippines):
Name of the Research Project
o0o
After
Mori Research Report
Research Site: Mandaluyong City Jail: Philippines
Research Period: August 15 to September 15, 2011
Name of the Research Project Leader
Angelino T. Gammad
M2 Student, 80126042
Human Security and Communication
January 24, 2012
Abstract
Detainees Insecurity in Mandaluyong City Jail
Imagine if those inmates confined in the advance world country like the United States that are already allocated a huge chunk of taxes money, and yet still making a valid complaint on the real situation of governmentsf inability to provide them better services. Among others, inappropriate facility (Haney, 2003:45), short of nutritious food (Hanson and Daley, 1994:9), lack of better health programs (Roguski and Chauvel, 2009:20), and other life necessities. Given this background, now try to visualize the condition of those detainees presently confined in the least developed country like the Philippines. One can always argue of the much socio and economical dissimilarity between the two, however, the basic contention is that both are catering human beings deserve to be treated as one.
In this particular fieldwork study, the report will touch on the penology system of the Philippines using the jail of Mandaluyong City as the research site. The aim is to describe a typical jail life of its occupants – the detainees.
This work hopes to provide rich source of inquiry for researchers and policy makers to find ways on improving the living conditions of detainees in Mandaluyong City Jail and elsewhere.
Chapter 1: Introduction and background of the research
The Problem and overview of the research
This study in the form of fieldwork research will revolve in discussing the human-interest stories of detainees by looking into their daily life condition while temporarily detained in Mandaluyong Jail. The discussion will emphasize on the lengthy temporary confinement processes and its impact to the life of detainees. What are the different life deprivation experiences that a detainee is undergoing as part of the collateral costs (Pogrebin et al: 2001:64) while awaiting for their cases in court during their transient life in jail? Further, the research will also spotlight how these detainees cope up with the government-limited services and resources particularly in their basic needs such as health, food and hygiene, security and human rights issues. Also, what are the behavioral importations they need to adopt in order to overcome the pain of incarceration, and how vulnerable are they to different insecurities inside the jail.
National Concern on Penology System in the Philippines
Most of the jails especially in the National Capital Region where Mandaluyong Jail is located are already ballooning with detaineesf population. Also, the governmentsf limited resource means inadequate goods and services for them. Given this kind of situation, the detainees are exposed to different demeaning condition like poor health and nutrition, inadequate and congested detention facility, security issues and other human rights violations, are just some of the life challenging dilemma that these detainees has to confront while waiting for the resolution of their case in court. And since the trend is that detaineefs population is projected to continue, thereby threatening them of the much difficult life and struggle ahead inside the jail. On the other hand, there have been marginal priority to improve the conditions of these detainees since the bureaucrats sees such actions as an administrative liability and a major throw stone of governments budget. And that the civil societyfs active participation is necessary to augment improvement of jail services.
Why Mandaluyong Jail and its detainees?
Among the basic issues and concern of this research is not only to highlight the condition of detainees in Mandaluyong Jail but also to spotlight them as mirrors to what might also be happening in other jails nationwide. There is no unique attributes that this jail has and that is what makes it an ideal window to showcase what is happening inside a jail and to describe the life of its occupants. If there is some dissimilarities may vary base on the result of the actual observation and exposition of their life experiences while inside this particular facility.
On the other hand, it is good to know that the average length of stay of a detainee is around 4 to 5 years<![if !supportFootnotes]>[1]<![endif]>[1], however, there were already 94 out of 597 who have been in this institution for more than 5 years now. Also, it is good to note that this facility is one of the jails that have a high rate of acquittal and number of death at the same time, which is worth looking through.
Definition of terms
Detainees Community – Is the organizational and hierarchal structures of detainees within their community that defines their respective statues, norms, values and other behavioral importations.
Detainees Deprivation – Means the removal or depriving a detainee on what is supposed to be in his possession or rights or services to acquire and enjoy as human being. And this also includes not only physical deprivation but also emotional and psychological uncertainties like the fear of harm, and the fear of unknown.
Detaineesf rights – Refers to the rights and privileges that the law requires them to possess or enjoy while in the detention facility. It also refers to the government policy whereby recognizing detainees as human individual with all the rights and privileges appurtenant thereof.
Fee System – The jail practice of paying for whatever privilege he wants out of the norms of reciprocity.
Importation – Means the explanation of the inmate subculture that says it is a result from people bringing certain norms, beliefs, and values into the prison and clinging to that as part of the life within.
Preventive detention – The practice in criminal justice system of holding a person accused of an offense in jail prior or during his trial because he is considered dangerous to his community.
Timers – Refers to any detainees who have been gin or outh of jail for various charges or those who already have served sentence in prison or colony.
Chapter 2: Rationale and Objectives, Hypothesis,
Research Question and Methodology and Potential Respondents
Rationale
The focal point of this research is to establish a cornerstone of knowledge for policy makers to look into what is really happening on the daily life condition of every detainee. Hoping that for whatever governmentfs decisions and undertaking they have to implement in the near future, they might reconsider addressing the following issues of deprivation as described in this paper. And also to come up with new frameworks to decrease if not to totally eradicate problems that causes detainees insecurities.
Fieldwork Objectives
This research fieldwork will be discussing three basic issues, namely:
a. To describe the plight of detainees while temporarily confine in Mandaluyong Jail by simply looking into their daily life.
b. To investigate what are their rights and basic needs that they suppose to enjoy and then compare it to their existing life condition.
c. To assess and make a reflection on the government policy towards the detainees.
Hypotheses and Research Question
The research hypothesis is that as a detainee, they should be treated as innocent and respected with all the rights and privileges accorded to them by the law. Their main concern should only be their case in court considering that their stay in jail is just a temporary in nature while his case is awaiting adjudication from the court. And that during his stay, he should be treated as human being, be provided with his basic needs and be respected of his rights and receive whatever goods and services that the law requires him to have.
The research question for this research will be:
a. What are the implications of being detained in Mandaluyong Jail?
b. What are the causes of detaineesf deprivation and insecurities, and
c. How can the government alleviate their present life condition?
Methodology
In the actual fieldwork, the following activities were undertaken as part of gathering information relevant to the research to describe detaineesf life:
o Conducted one on one and group interview among 18 detainees and to some members of their family.
o Personally distributed and retrieved set of survey questionnaires on 60 detainees.
o Conducted briefing on how to fill up and answer the questions in survey materials.
o Observation on the entire jail facility and try to integrate to the daily life of the detainees.
o Participate in the jail programs and activities such as religious, sports and recreation and other programs.
Potential Respondents and other sources of information
Following are the source of information and potential respondents for my research:
· 596 Detainees of Mandaluyong Jail
· Detaineesf family and other visitors
· Former detainees
· Jail and court personnel
For my sources of data, the jail and court records as well as the related literatures provided me rich information about my chosen topic.
<![if !vml]>

<![endif]>
Chapter 3 Conceptual framework
<![if !vml]>

<![endif]><![if !vml]>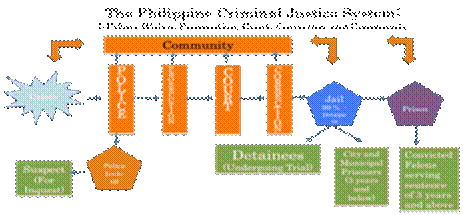 <![endif]>
One of its kind, Philippine has a unique criminal justice system comprise of five (5) pillars, the police or law enforcement, prosecution, court, correction and community. This is where every person accused of an offense will have to undergo as part of the justice system (see figure 1). When a person commits an offense, he will be arrested and confined in the police lock-up for temporary confinement while the investigation is being conducted. Then after the gathering of evidence and the preparation of all necessary documents, he will then be referred to the prosecutor, who will later on determine if there is a probable cause to try a case in court. The prosecutor will then issue information to the court that an offense has been committed and that the person arrested might be probably guilty thereof. The court will now issue a commitment order for his immediate transfer to jail where he will remain until his case reached final judgment (unless he will post bail for his temporary liberty on cases allowed by the law). In case found guilty, he will be transferred to prison to serve his sentence.
<![if !vml]>

<![endif]> <![if !vml]>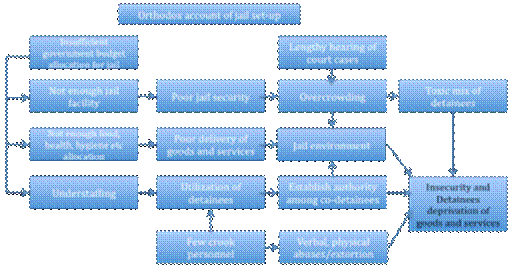 <![endif]>
Insecurities cause by deprivation of different goods and services can be attributed to a multi-dimensional account. The government plays a crucial role in assuring that detainees during their gtemporaryh detention should be respected of their full human rights and be treated with humane safekeeping (see figure 2). However, due to insufficient budgetary allocation from the government funds, the jail administrators are hand-tied with the limited resources and should find other means to maintain the needs of jail and all its occupants. One way of doing this is the utilization of detainees to help them in maintaining peace and order inside each dorm by extending their authority to the inmates, thereby allowing them to have power over their co-detainees. Such power create a huge impact on every detainees because inside their dorm a gcommunity of detaineesh is established whereby those in power have more access to goods and services than those who donft have (this will further be discuss on the next chapter). The long and judicious trial is also one of the main reasons why detainees are cramping inside a small dorm. Since, detainees have to wait for a long period of trial means they also have to stay in jail during those times. And add up some scalawags in uniform which abuses the utilization of the detainees and their system provides them leeway to execute their illegal practices.
The Concept of Human Security in Detainees life
Human security covers human rights, good governance and access to government goods and services (such as food, health, security and access to court). Denial of this basic institutional right is the denial of human existence and the obstruction of opportunities and choices. Respecting human rights is at the core of protecting human security (Human Security Now: 2003:10). Toward this end, it is expected that by identifying and preparing for any occurrence that could have severe and prevalent consequences critical to the condition of every human being (including detainees) should be recognize in order to protect them and address such issue. Human rights and human security are therefore mutually reinforcing (HSN: 2003:10). The notion of identifying the duties and obligations of the government complements the recognition of the ethical and political importance of human life. And it should not only the government but also the entire community must learn the basic rights that common people needs to enjoy. The government as part of its sovereign duties and responsibilities to its people should take these rights in the form of gobligationh rather than an gappealh from the victims.
Chapter 4 Research Findings and Discussions
This chapter will center its attention on the findings during the interview as well as the observed condition and environment of detainees and the jail facility. The jail environment will be discussed to allow better understanding on the kind of surrounding that detainees are living with and the disposition of how its structure is maintained. Testimonial account will also be provided to highlight their life experiences during confinement as well as the on-going struggle of many detainees inside the jail.
<![if !vml]>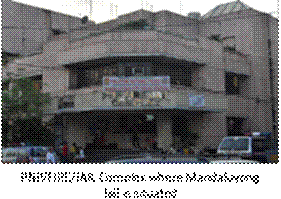 <![endif]>Jail Environs
The Organizational Structure of Mandaluyong Jail
The jail of Mandaluyong, like any other typical jails in the metropolis has its own distinct community structures within. Besides from the Warden who holds the highest managerial position and in-charged of both the operation and management of personnel and detainees, the latter (detainees) too have their own hierarchal organization that they live in everyday life (see table 1). The detainees themselves based on the jail-community-status select jail leaders. Usually, the dorm-leader<![if !supportFootnotes]>[2]<![endif]>[2] is chosen using the same system of democratic voting. However, by contrast, the norms dictates that gtimersh or those who have been in or out of jail or have served sentence in prison have the capability and wisdom in hurling different jail problems involving their well – beings and usually leads the dorm. Toughness and readiness to engage in everything (like fight) is a plus factor in the selection plus the gravity of his offense. Of the five (5) male dorm leaders in this jail, four (4) of them are timers, while the three female dorms have leaders appointed by their wardress (see table 2). The norm dictates that higher offense and a number of criminal records warrant more respect and authority.
<![if !vml]>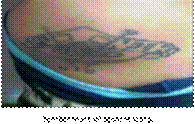 <![endif]>Gang Rule
The prevalence and dominion of one gang (Sigue-Sigue-Sputnik<![if !supportFootnotes]>[3]<![endif]>[3]) also affected the life of those non-members. With its strength of around 180 members, others are force to joined in exchange of protection and the promised of brotherhood. Many especially by the non-members and new comers fear the gang member who dominates the over-all position in jail-structure. That is why those who are not really gangster or criminals per se often cling to the group as their source of connection and inner-circle-relationship. And as observed, no one can argue or challenge any gang members especially their leaders for they are the rule inside the jail.
Table 1 Over-all hierarchal structure of detainees in Mandaluyong Jail
Over-all Leaders in Mandaluyong Jail

Name of Leader

Mayores

Over-all highest leader inside the jail, also the head of the 5 dorm leaders

Edwin Denso, 2nd timer, served his murder sentence in prison (member of SSS gang

Jury

Served as the elders, usually those who have served sentence in the Prison or Penal Farms, had handled Mayor position before, called the wise-man in jail or prison life

Joseph Sta. Maria, served his sentence in prison for drug cases, have been in Mandaluyong jail in and out (member of SSS gang

Adviser

Also served as elders or adviser, and usually have served sentence in prison and penal farms

Tomas Moreno, served his drug sentence in prison, has been in and out of Mandaluyong jail (member of SSS gang)

Over-all Bastonero

In-charged with the discipline inside the jail facility

Albert Co, former Mayor of Dorm 3 (composed of Sputnik Gang with around 80 followers/members in his dorm and member of SSS Gang)
Table 2 Composition of Dorm leaders
| | |
| --- | --- |
| Position in Every Dorm | Nature of power and authority over his co-detainee |
| Mayor [verbalized ma as in manner). | Highest leader in the dorm, also in-charge with the financial funds of their dorm |
| Bastonero | 2nd in command, in-charged with the discipline in his area of responsibility (his dorm), also the executioner of punishment (usually paddling of wooden paddle to the buttocks) |
| Chief OD | In-charged with the daily activities both in and outside the dorm, set the rules and activities for the detainees |
| Chief Kultorero | Dorm representative, liaison, secretary, detainees record keeper |
| Chief Mahinarya | His group is in-charge during nighttime to served the needs of the dorm leaders (as errand), watchers for roving jail officers, they also watch every detainee during their sleep to guard them against nightmares causing death |
| Chief Buyon | His group is in-charged in the cleanliness of their dorm surrounding, their lavatory, etc. |
| Chief Ranchero | His group is in-charged in the ration of food |
| Chief Rosary | His group is in-charged on the leading of prayers |
Note: The female dorms have their own different hierarchal position and responsibilities patterned on the Therapeutic Community Modality<![if !supportFootnotes]>[4]<![endif]>[4]
Jail Language, role-playing and Norms
<![if !vml]>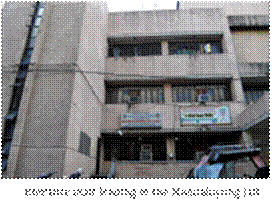 <![endif]>In this particular jail, detainees have their own jail lingo or language (sometimes accompanied with some hand signs or gestures) that they often used to discreetly communicate to each other (for list of this lingo please refer to annex gAh). Role-playing is also common whereas detainees are categorized depending on their social status inside the jail. The gnanunungkulanh or leaders in their respective dorm have the highest statue accorded depending on their respective positions. Those who have been in or out of the jail or have served sentence in prison are called gtimersh and are also considered to have a high statue because of their jail exposures and experiences. Those who are new comers who can afford to pay in order to have a place to sleep (bunks) are called VIP or very important person/people. In exchange of weekly payment of 100 yen, they can have one space of bunk and are not required to do any chores inside the dorm. They are the source of dorm funds usually handled by the dorm leaders. The new comers who cannot pay this VIP system are referred as gbuyonerosh and gmahinaryash or toilet cleaners and masseurs or night watchers and do much of the jail chores. And since they cannot afford to pay, they sleep on the floor and have little privilege inside their dorm. Once he can no longer pay, he has to vacate his bunk and his statue is shifted back to the lowest one. Through this kind of jail community, detainees are expected to learn to import the accepted way of living in order to adopt and survive the life inside the jail (Hochstetler and DeLisi: 2005:257 and Dhami et al: 2007:1085). Violators of this norms and disrespectful to statue simply connotes punishment.
Values of reciprocity
gMatikh or short for gautomatich is a systemic norm that denotes consented reciprocity and is widely accepted in almost all aspect of any jail activities. From the simple exchange of goods and services, obligations between individual or groups or gang are mutually engage in a daily basis. If you have nothing to give in return the lesser you will get what you need (like a space for sleeping, privilege inside the dorm like exemption from doing jail chores cleaning the toilet, serving the dorm leaders, roaming outside dormitory etc.).
Kangaroo court
Any infraction of these jail-community rules will be given its equivalent punishment by their respective dorm leaders. From paddling (to the lower buttocks using a wooden paddle, usually 2 x 4 thick), gbabasaginh or will be tumultuously boxed, gpapatayan ng ilawh or lights off (a term used to denotes that the attack will be executed during sleep) to conceal the identity of the perpetrator and gaamininh or will be acknowledge. Meaning he will be killed and his death will be acknowledge or add up as part of the case filed against the doer – usually charged with a case whose penalty is life imprisonment so he has nothing to loose<![if !supportFootnotes]>[5]<![endif]>[5]. So far, in this jail, the first three modes of punishments were already part of the routine except the latter one. On the other hand, the jail officers find it hard to pin point the perpetrators of this punishment simply because of their code of secrecy. And concealing this kind of activity is normal among them. That any detainee who will mouth said activity will receive a much heavier penalty. And the inability to guard the detainees in a 24-hour basis (specially during night at their sleep), prompted the victims to just keep silent and hesitate to file any complaint.
Fee System and gMatikh
gVIP or tarimah, gcallingh and gbuy out systemh are just some of the gfee systemh that is prevailing inside Mandaluyong Jail (for further explanation of each system please refer to annex gAh). Most detainees explain that they need to raise such fund considering that most of the time, the jail clinic has no medicine to provide. And if there is one, they cannot access it specially during night-time because they were told by the personnel that only those emergency or between life and death situation will be given attention considering that they (health personnel) also need some rest from a 24-hours duty. Also, the jail bureau does not provide them cleaning and hygiene materials and the donation made by various groups are not enough so they have to provide it themselves. Some dorm leaders said that the fund is also used as gmatikh or accommodation money for the personnel in case they need to ask them favor in response to reciprocity. For example, if one of their visitors failed to carry or has no identification card (which is required before entry), or arrive minutes before the time end of visiting hour, thus this accommodation money will pave way to grant the entry of their visitors. It is also used to provide them some leeway and privileges like playing basketball and other activities, and oftentimes augment for any jail programs and activities for them. However, there have been numerous accounts where dorm leaders abuse their power and use these funds for their own benefits. And those who cannot pay their dues will have to meet the consequence.
On the other hand, the personnel are well aware that such activities is happening however, they have different perception about this. Some say that they donft mind since the money collected is used as fund inside the dorm for their own use (like buying medicines for sick detainees, buying cleaning materials, etc.). Others explained that this has been the common practice of every jail and their hands are off on it. There are also personnel saying that this is hard to stop considering that they need to utilize the services of the dorm leaders in maintaining peace and order within their rank and that this is one way of boosting their morale to cooperate. However, when ask if this practice is legal or illegal, many personnel admitted that it is not legal and in fact prohibited inside the jail.
The Jail Facility
<![if !vml]>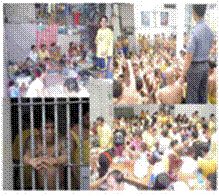 <![endif]>The facility was built in 1994 to accommodate 80 – 100 detainees (now it has 596 detainees<![if !supportFootnotes]>[6]<![endif]>[6]). It has five dormitories for male and 3 dormitories for female. Females have one toilet bowl shared by around 27 detainees in each dorm. While in male most shares one toilet bowl for around 80 detainees in each dorm (except for dorm number 4 and 5 that has two-toilet boil for their more than 100 population respectively). Gang members specially the leaders has priority access to these and in any other available things and equipments (including televisions etc.) Walls separate those male from female detainees and they are not allowed entry except when there are joint activities. Both detainees have their own separate kitchen where their food is cooked (by the detainees themselves, while personnel does the marketing), a visiting area that is also used as activity or program area. Meaning during visiting time there would be no place for a jail program for the detainees (examples religious services, literacy, livelihood, etc.). Most of these programs are supervised by personnel and is usually funded by the Non-government organizations (NGO), local government, religious and civic groups and other volunteerism. Again, gang members have priority access to these programs more particularly during activities sponsored by various groups that are distributing free goods/foods and hygiene materials.
gThe Case of release detainee Albert Barroah
Mr. Barroa is a typical family man living with his wife and 4 young siblings. They settled in a small house, which they own through property rights (squatting) located at Gonzaga Street, Hagdan Bato Itaas in Mandaluyong City. Albert as his friends calls him finished vocational study and works as an electrical technician (under 4 months training and he is not a license electrician). Most of his clients are his fellow neighbors and he is sometimes commissioned on building construction project as electrical assistant and usually earned around 5000 to 6000 pesos or 2800 to 3500 yen monthly.
<![if !vml]>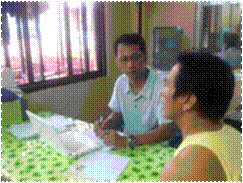 <![endif]>Albert, for the first time had a taste of jail on April 28, 2003, after he was arrested for (allegedly) carrying of methamphetamine hydrochloride (locally known as SHABU), and was charged for possession of regulated drug. And since his meager income cannot afford to compensate the required bail bond for his temporary liberty, he was immediately transferred to Mandaluyong City Jail where he stayed for many years. And finally, on September 1, 2011, after almost 8 years of couple of dozens of scheduled hearing, postponement and resetting of trial, his promulgation was read and there he was adjudicated as INNOCENT of the crime charged against him. He was happy though he said, ghefs life will never be the same againh. He has no more home to go back to, his wife left him in the midst of his miserable life (and seek shelter to another man), his children were very cold at him, and they all stop going to school seven years ago. He pleaded the warden to allow him stay in the jail as errand (in exchange for food and place to stay) until he finds a new job and a place for him to start all over again. He did not intend to file any compensation from the government after his acquittal saying, ghe donft know the procedures, he has no money for the processing and that his liberty is enough to prove his innocenth. The claim<![if !supportFootnotes]>[7]<![endif]>[7] worth 12,000 pesos or 24,000 yen has to be applied and will gnot automatically be given to victims of injusticeh.
Life in jail
Mr. Barroafs first idea of jail is not different from what the common people thought of it. That it is a difficult place to live with, but he knew that having grew from a poor background will gave him the perseverance to overcome the difficulty that awaits in him in jail life. His concern is how he will cope-up the life in jail and how would his family live and survived without him being the bread and butter in the household. He is also well aware that his distant relatives in the province cannot help them financially because they too are poor plus the fact that they also have their own family to look after. Despite all of this, he is very optimistic that everything will be fine for he knows he is innocent and that all he have to do is to prove it before the judge and besides, he is in jail only for a gtemporaryh period until his case is being heard in court.
Survival-of-the-fittest
Being new to jail, who cannot afford to avail of the VIP, he find himself among those sleeping and eating on the floor and was treated as among the lowest statue therein. He remembers feeling eating on the cemented floor like a dog. New comers especially those first timers are treated being the lowest in the hierarchal structure inside the dorm. And since he was not aware on the time of his transfer from the police detention to the jail facility, he had nothing in possession but only the cloths that he is wearing so he found himself sleeping on the cold-cemented floor designated to him by the gbastoneroh or the one in-charge with the discipline inside the dormitory. He can still recall that he have to ask permission first to the OD or officer of the day for what ever he would do like going to the lavatory, getting water, etc. His life has been like this for a couple of months. And from what he experience, gang members sometimes make fun of them being new comers and since he donft want to mess with the gang rules and be penalize by a kangaroo court, he just follow whatever degrading things they told him (like climbing on the iron grills and hanging in there for couple of hours, being slapped in the face without apparent reason, etc.). Now he is not just fighting for his case in court but also fighting for his survival in jail.
<![if !vml]>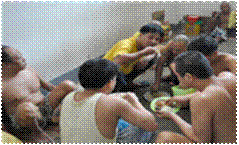 <![endif]>Temporary confinement become years of uncertainty
His thought of waiting temporarily lasted for years until the time that he no longer counts the nights and days and just completely ignores what ever will happens to him. This is because as time passes-by, his family visiting schemes begin to deteriorates whereby to the point that he received visits only once in every 2 or 3 months (and he already expected this since most of his friends inside the dorm had experience the same). They said, gang dalaw ay kumukupash or gvisitors fades awayh.
Family Problem
However, the diminishing number of visitation is nothing compared to a gDear John Letterh. Mr. Barroa said that he already expected that this would eventually happen to him because he was informed by his elder daughter that his mother is already working and is seen seeing another man. His wife never said goodbye to him and just stops visiting him living their children to the care of his mother-in-law.
<![if !vml]>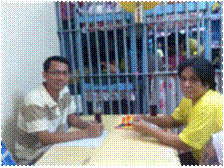 <![endif]>The Case of detainee Elena Madridano
Respondent Elena Madridano, a mother of 6 children, is presently living with her 2 siblings (the other 4 already has their respective families) when she was arrested and charge for drug possession. Her youngest son stopped going to school as grade-4 elementary student immediately after she was confine.
Elena, whom I will describe as having a worried and serious look on her face, still recalled how she was totally disarrayed when she was arrested for a crime according to her she did not commit. According to her, it is difficult to accept her faith for she knows she is innocent. She said that it was her husband the police are looking for but one of the raiding team accordingly insist to include arrest her because her live-in partner is not in their house at the time of the raid.
Within her first two years of confinement, she availed the services of the Public Attorneyfs office. But her older sister together with their other relatives helped and provided her a private lawyer because her case has not achieve any development. According to her, her scheduled hearing was often cancelled because of the absence of either the judge, prosecutor, public attorney, arresting officer, chemist, etc. or sometime because of lack of material time to continue the hearing because there were too many cases being heard. However, after two years of being defended by a private lawyer, her sister told her that they can no longer help her pay for the services of a lawyer due to financial difficulties. So again, she availed the service of the public attorneysf office that accordingly, has never been in jail to visit her.
Life in Jail:
Elena narrated how she cried almost every night during her first 2 years of confinement, and even up to now every time she thinks back and remembers the unfortunate things that happened to her life. She remembers that upon transfer to the jail, she knows no one inside and just kept silent as she was pointed to a piece of space in the floor for her place to sleep. And because of this situation, her children decided to contribute and pay for her VIP to acquire a bunk to sleep. She was oriented by one of the female detainees about the rules and the need to pay in order to avail of some privileges that she accepted because of her poor health condition and old age. She paid P150 on the first week and then P100 every week thereafter. Her children also provide her daily needs in jail like money to buy extra food, needs for personal hygiene like soap, toothpaste, etc. She also complaint about the high cost of goods offered inside the jail because it is run by the personnel through their cooperative store. And how personnel holds the goods/foods brought by her children because the cooperative has the same goods being offered. Sometimes she also shoulders her medicine because it is not available in the clinic. She also mentioned about the paying of 15 pesos (or 30 yen) for every time she received a visitor. When I asked her where the money goes? She explained that the fund is intended for procurement of cleaning materials since jail administration does not provide them except those donations from different volunteer and civic oriented groups.
She also recalls that on her first years of confinement, she received visitors almost every day. But as time goes by, her visitors mostly her immediate family eventually declined where by now, shefs no longer aware when she will be visited. Sometimes she received only one visit from her younger daughter once a month, bringing around 5 pieces of bread and without money. This is because most of her children also have their own family to look after including their two young brothers.
Right now, due to her old age, she is already feeling week, and sometimes had a difficulty in breathing. She was rushed to the health clinic for three times and was given oxygen. Her problem is how to make sure that she has available medicine (salbutamol) whenever she had asthma attack. She now just relied in the availability of said medicine in the clinic, and in case there is no medicine available she just have to bear with the reality. Often, she asks NGOfs and other religious groups visiting them for assistance regarding her health condition.
She just hold strong with her faith and never fails to read the bible daily as her source of strength and she perseveres daily hoping that one day she will eventually be release.
Other Issues of insecurity: Food, Health and Hygiene, Security problem and violation of human rights
<![if !vml]>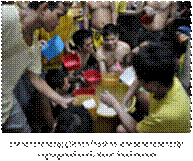 <![endif]>As discussed in the first fieldwork, the noticeable effect of incarceration is the limited goods and services handed by the government to these less fortunate human beings behind bars. The jail is not conducive for human living requirement. The congested situation deprived them <![if !vml]>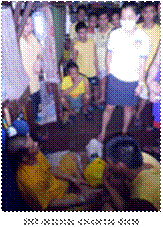 <![endif]>of the space to live a decent and humane life. Poor ventilation and not enough space to sleep plus the fact of gang rule take away the little opportunity for the detainees to see their life with any value.
This is further aggravated by the limited food, health and hygiene services. The recorded gone death every monthh since way back 2008 connotes a need for reexamining the food nutrition intake as well as the health service capability of the jail management. The prevalent of these deaths (even though they died in different causes) is already alarming and definitely could be a source of gfearh and insecurities among detainees. That should they wait longer in jail may suggest of their mishap and be added to this statistics. The presence of PTB patient and the lack of proper isolation make other detainees susceptible to the disease. At present, there were seven patients undergoing medication which complements to the collaborative study made by the Philippine Council for Health and Development, World Health Organization and the College of Public Health of the University of the Philippines, stating that twenty out of one thousand inmates in jail are suffering from tuberculosis.
Another issue is the problem on security and violation of human rights. On the conducted survey shows that out of the 60 respondents, there were 10 claimed that they have experience being threaten, harass, harm by his co-detainees. While 12 detainees said that they have experience physical abuse from the jail authorities. Another 12 say that they actually experience verbal abuse and 8 have been subjected to torture, inhuman or degrading treatment by the jail authorities. 12 detainees on the other hand experienced being forced to attend religious worship or activities against their will. This shows a significant number proving the presence of both security problem and abuse from the jail authority. On the other hand, a study conducted by Just Detention International in 2001, shows that four percent of females have experience sexual harassment while in jail. This only shows how vulnerable they are inside the jail and that their fate lies on their handlers.
<![if !vml]>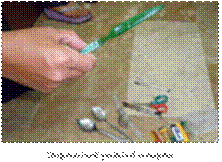 <![endif]>
Also, the presence of gang and its domination in the hierarchal structure of detaineefs community provide a clear glimpse of how loose administration in their jail operations. Detainees should not in any way hold power inside the jail much more of supervision to his co-detainees. This kind of practice allows more inconvenient to those new comers specially who cannot afford the cost of fee system.
Chapter 5 Reflections
Based on the stories and observation noted during a month-work-fieldwork in Mandaluyong Jail, it is made clear that detainees have gone through in different life challenging situation. And this kind of environment will continue to persist unless the government steps in and correct the loopholes in the process. Although it is admittedly hard to address the following problems at hand, considering that most relies on budget and allocation, however, it is good to start on things where policy can make a huge improvement on the life of detainees. One clear example is the removal of the hierarchal structure that the detainees imported as part of their daily life. Correcting this wrong way of life in jail is a good step tackling other related problems like abuse of authority (by detainees and personnel) and corruption or fee system. The equal distribution of bunks among detainees giving priorities to aged, health condition, and length of stay in jail is a good practice among detainees. In short, detainees being in jail on a gtemporary statush should not be burdened with additional problems and uncertainty. And that the government being the protector of its people should sees the condition of detainees as one of its priorities.
The active participation of the civic society (industry, religious, volunteers, etc.) including all government machinery should work hand-in-hand and make use of its combine effort and resources to address the demeaning condition of our less fortunate brothers in jail. Especially them who are still suspects.
Actually, a strong and challenging statement was given by one of the timers who have served in prison and compare the life in jail of those in prison life. He said, gLife in prison is better off than life in jailh. From this we could imagine that those who are already found guilty of their crime has more convenient compare to these detainees who are still undergoing trial. And to mention the fact that in this jail, the ratio of acquittal versus conviction is 1:2. Which means that more than a quarter of them can be innocent and should not be in jail in the first place.
Obviously, one of the underlying problems here is not just the physical deprivation. It is also of equal importance to note the gsense of uncertaintiesh being developed by the detainees. These fears of the unknown also have a huge impact on both the emotional and psychological life of detainees. And these can be manifested on his attitude towards others. As explained in the study conducted by the Physicians for Human Rights (page 11), indefinite detention (similar to the condition of these detainees because they are uncertain of when their cases will end) manifests different psychological effects. That detainees who have blank idea when he can be release can suffer from high rates of severe anxiety, despair, depression and dread<![if !supportFootnotes]>[8]<![endif]>[8]. As mentioned in the human security now, health here is not just the absence of disease, but a gstate of complete physical, mental and social well-beingh. And since health is at the vital core of human security concept, protecting human life is the very heart of this endeavor (HSN: 2003:96).
Another effects of similar impact is that relationship to hard core criminals by the new comers to become members of their gang for their social capital inside the jail or what Hagan and McCarthy described as Criminal capital illustrates that non-criminals or those charged with petty crimes learns higher modes of crimes and gives them access to bigger jobs or obtain illegal items like guns, car nap vehicles, etc. (Halpern: 2005:118-119). Making the commission of crimes like a learning process in school and jail is its practical university.
All of what these lengthy and depriving situations of jail brings about is irreversible. And the price of acquittal is not always a happy ending. The disorganization of family, low morale, and a sense of no direction in life are just among the aftermath of incarceration. The stigmatization (even you prove your innocent) will remain embedded in their lifetime and can even affect his or her siblingsf life (Murray: 2005:442-443).
All have been discuss, the denial of basic needs of detainees like health, nutritious food, clean and adequate facility, and protection against harm and human rights violation is a threat to human security (Younis: 2006:187). Every government has a mandate to promote wellbeing and reduce the risk of hardship, and this includes detainees.
Annex gAh - List of Jail lingo or language:
<![if !supportLists]>1. <![endif]>Amat – reverse of TAMA – ailment, high in drugs, in ecstatic condition
<![if !supportLists]>2. <![endif]>Anda – money, cash
<![if !supportLists]>3. <![endif]>Ayuda – blessings to continue something or permission to act as directed
<![if !supportLists]>4. <![endif]>Bartolina – solitary confinement, disciplinary cell
<![if !supportLists]>5. <![endif]>Buryon – a state of onefs mind or condition where boredom prevails and there is little grasp of sense in reality.
<![if !supportLists]>6. <![endif]>Buy out system – a system whereby a new comer that has potential to become a VIP are priced out in order to get them in their own dorm, thus raise more funds for the dorm. The money out of the funds goes to the personnel on duty to grant their request to get the new detainees in their dorm.
<![if !supportLists]>7. <![endif]>Buyon – refer to the toilet or lavatory
<![if !supportLists]>8. <![endif]>Calling – payment or mandatory contribution for having a visitor. The explanation is that since you have a visitor (while others don't have) you should spread what you have as part of good relationship.
<![if !supportLists]>9. <![endif]>Cuerna – newly admitted prisoner or newcomer, first timer
<![if !supportLists]>10. <![endif]>Epak – reverse of KAPE or coffee.
<![if !supportLists]>11. <![endif]>Estapa – unfair, uneven, unjust, incomplete
<![if !supportLists]>12. <![endif]>Gopi – worthless, no money
<![if !supportLists]>13. <![endif]>Halihaw – to stab repeatedly, ballistics behavior.
<![if !supportLists]>14. <![endif]>Kalandrakas – handicraft, any items inside the jail that can give detainees things to do to cut off boredom.
<![if !supportLists]>15. <![endif]>Kalugar – town mate, buddy.
<![if !supportLists]>16. <![endif]>Karancho – friend, confidant, comforter, supporter, buddy in during eating.
<![if !supportLists]>17. <![endif]>Karpeta – prison records, list of detainees in alphabetical order, also list of personnel in according to rank.
<![if !supportLists]>18. <![endif]>Kosa – co-accused, buddy, confidant.
<![if !supportLists]>19. <![endif]>Mahinarya – night patrol, aide, errand.
<![if !supportLists]>20. <![endif]>Matalas – bladed weapon, corrupt, clever
<![if !supportLists]>21. <![endif]>Matik – means that there is nothing more to talk too, Its already decided, you know what to do, money talks, arrangement through the use of money, bribery
<![if !supportLists]>22. <![endif]>Oblo – reverse of Loob – inside the jail
<![if !supportLists]>23. <![endif]>Paandar – a mean to attract attentions, self-injury.
<![if !supportLists]>24. <![endif]>Panakal – paddle use for paddling violator of jail rules and regulations, either of the BJMP
<![if !supportLists]>25. <![endif]>Pangkat – gang, grouping.
<![if !supportLists]>26. <![endif]>Parating – expected revenue or income
<![if !supportLists]>27. <![endif]>Parehas – fair, just, equal
<![if !supportLists]>28. <![endif]>Patakaran – legally implemented rules and regulations imposed by the BJMP administration to every detainee, including the unwritten norms of detainees inside the jail.
<![if !supportLists]>29. <![endif]>Rancho – food ration, unpalatable food.
<![if !supportLists]>30. <![endif]>Rapits – reverse and modified of PERA - money, income, revenue
<![if !supportLists]>31. <![endif]>Silahis –effeminate
<![if !supportLists]>32. <![endif]>Simbol – Gang symbols or tattoo signs
<![if !supportLists]>33. <![endif]>Takal – punishment through paddling to the lower buttocks
<![if !supportLists]>34. <![endif]>Tarima – Bed bunks, payment for the occupying the bunks as VIP, means staying in bunks all day long.
<![if !supportLists]>35. <![endif]>Tatak – Gang marks or symbol
<![if !supportLists]>36. <![endif]>Tirador – hatchet man, assassin
<![if !supportLists]>37. <![endif]>Tumatarima – never goes out of his bunks, cell or dormitory except for personal necessity
<![if !supportLists]>38. <![endif]>Urot – Reverse of TURO, middleman, fixer, third party, nasty.
<![if !supportLists]>39. <![endif]>VIP – one who can avail of some privileges inside the dorm
Bibliography
__________, April 2009, Sexual Abuse in Philippine Detention Emerging as a Human rights crisis, Fact Sheet, Just Detention International: Rape is not part of the penalty, www.justdetention.org and info@justdetention.org.
Bureau of Jail Management and Penology, National Capital Region, Standard Operating Procedures number 2010-01 dated February 4, 2010, Comprehensive policy on the implementation, monitoring and evaluation of the Therapeutic Community Modality training of the BJMP.
Bureau of Jail Management and Penology, Revised 2007 Manual
Cheyette, Cara M. June 2011 Punishment Before Justice: Indefinite Detention in the United States, Physicians for Human Rights, http://www.Physiciansforhumanrights.org
De Leon, George, 2000, The Therapeutic Community: Theory, Model and Method, Springer Publishing Company, New York.
Dhami, Mandeep, Ayton, Peter and Loewenstein, George, 2007, Adaptation to Imprisonment: Indigenous or Imported, Criminal Justice and Behavior, volume 34, No. 8, August 2007, pp. 1085 to 1100, American Association for Correctional and Forensic Psychology.
Halpern, David, 2005, Social Capital: Chapter IV Crimes, Polity Press, Cambridge United Kingdom pp 113 to 141.
Haney, Craig, 2003, Prisoners once removed: The Impact of Incarceration and Reentry on Children, Families, and Communities, The Urban Institute Press, Washington D.C.
Hanson, Roger A. and Daley, Henry W. K., 1994, Challenging the condition of prison and jails: A Report on Section 1983 Litigation, U.S Department of Justice, Office of Justice Programs, Bureau of Justice Statistics.
Hochstetler, Andy and DeLisi, Matt, 2005, Importation, deprivation, and varieties of serving time: An integrated-lifestyle-exposure model of prison offending, Journal of Criminal Justice, pp. 257 to 266, Elsevier Ltd.
Pogrebin, Mark, Dodge, Mary and Katsampes, Paul, 2001, The Collateral Costs of Short-Term Jail Incarcerations: The Long-term Social and Economic Disruptions, Corrections Management Quarterly, 5(4), p. 64 to 69, Aspen Publishers, Inc.
Mabutas, Gabriel S. March 14, 2011, Prisoners fall easy prey to TB – study, Manila Bulletin Publishing Corporation MB.com.ph. http://www.mb.com.ph/node/318179/pri
Murray, Joseph, 2005, The Effects of Imprisonment on Families and Children of Prisoners, pp 442 – 492, The Effects of Imprisonment, Cullompton, England: Willan.
__________ November 22, 2011, Senators call for speedy trial of Maguindanao massacre cases, PhilStar.com, PNA.
Ogata, Sadako and Sen, Amartya, 2003, Human Security Now, Commission on Human Security, United Nation, New York.
Roguski, Michael and Chauvel, Fleur, 2009, The Effects of Imprisonment on Inmatesf and their Familiesf Health and Wellbeing: Prepared for the National Health Committee, Litmus Publishing Corp.
Sambajon, Felicisimo, 1973, A Brief History of Philippine Prison System, Bureau of Prison, Muntinlupa, Rizal. http://www.philstar.com/Article.aspx?articleId=750858&publicationSubCategSoryId=200
Sfeir-Younis, 2006, Security and Development, Investing in Peace and Prosperity, Routledge Publishing.
Tugade, Jeni Esther R., 1994, The Law and Practice of Administrative Detention in the Philippines, In the Custody of the Law, LAWASIA Human Rights Committee.
Wikipedia,http://en.wikipedia.org/wiki/History_of_the_Philippines#Early_Spanish_expeditions_and_conquests