ASIA-ASEAN Data Strategy Research Consortium
Objectives
The objectives of the ASIA-ASEAN Data Strategy Research Consortium are to conduct research into the technology and policies that will play an important role in the strategic evolution of generation, analysis, application, sharing and distribution of data (open data and big data) in the era of Big Data, and take a leadership role in the Asia-ASEAN regions, focusing on education in these areas.
In recent years, the concept of various kinds of data being transmitted from the standalone environment to networks has rapidly become a reality in societies in certain areas, including medicine, disaster prevention and energy. Therefore, a model-based design has been promoted to realize social optimum through the analysis of this data. In line with this, our research system is built on two layers.
First, as a foundation, we work on the establishment of a research community to gather human resources including those from political and business circles both in Japan and overseas, that nod in the direction of research. We see this community as an effective promotional engine to accelerate research.
One of the design variables that attracts attention in the era of Big Data is "borders." For example, recently, data has become able to cross the borders of cities, regions, and countries far more easily at a lower cost in terms of technology. With this as a background, this consortium promotes research focusing on the Asia-ASEAN regions, through the utilizing of Keio University's existing regional networks of leaders in the areas of industry, academia and government. The networks include the SOI (School on the Internet) Asia Research Project, which has a long history dating back to the dawn of the Internet age, among Asia's leading 28 universities, and the Project for Establishing University Networks for Internationalization (Re-Inventing Japan Project/Support for the Formation of Collaborative Programs with ASEAN Universities).
Second, we conduct research in system design, educational practices, and personnel exchange as well as technological development sharing in the community. When system design doesn't go well, data are not used resulting in no innovation. It is also important to design with due consideration given to technology selection and the possible violation of the rights of data senders.
With regard to education in this high information society, it is essential to foster people with the skills and mindset to analyze factors based on data through the global platform of Big Data, and design and practice a correct solution approach, based on the analysis outcome. Likewise, we also cover the area of environment creation to enable those with advanced expertise to find opportunities in industrial circles.
In terms of specific areas of research, this consortium will promote research in collaboration with existing laboratories and projects (*) in Keio University.
* Based on the partnerships with 28 universities in 14 countries for nearly 20 years, mainly through the SOI Asia Project, Keio University has promoted personnel exchanges between students, faculties and Japanese companies that lead in the Big Data era. This is about to be established after two years of validation.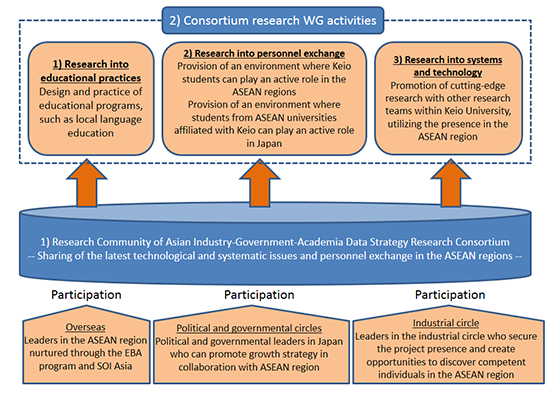 Outline of Research Activity Plan (First Year)
Establishment of a research community
Establishment of a research community, involving leaders in the areas of politics, government and industry both in Japan and overseas, who agree with the concept of conducting of research into technology and policies that contribute to the strategic evolution of the generation, analysis, application, sharing and distribution of data (open data and big data) in the era of Big Data, and leading Asia-ASEAN regions through education involving the above.
To lay the foundations, we will hold a kick-off meeting of this community, and invite political and industry leaders at the ORF in November 2013. Following this, we will expand on the number of participants, with the involvement of presidents and executives of IT and communication companies as well as members of political and governmental bodies, in order to establish a community that influence strategic deployment in the Asia-ASEAN regions.
Research WG activities
We will promote intensive research among specific consortium members based on particular themes. With regard to personnel development and exchange, we especially need to create an environment to encourage people in the Asia-ASEAN regions to show urgent interest in Japan, as these regions are the leaders in the era of Big Data. We will start research WG activities in this field before the end of this academic year.
Researchers, managers and professors
Jun Murai

Director

Professor, Faculty of Environment and Information Studies
Consortium leader
Tomohiro Ichinose
Professor, Faculty of Environment and Information Studies
Subleader
Design of a base, analysis method and use case for open data platforms
Shinnosuke Obi
Professor, Faculty of Science and Technology
Design of a base, analysis method and use case for open data platforms Asian Industry-Government-Academia Data Strategy Research Consortium
Keiko Okawa
Professor, Graduate School of Media Design
Design of a base, analysis method and use case for open data platforms Asian Industry-Government-Academia Data Strategy Research Consortium
Tomoyuki Furutani
Professor, Faculty of Policy Management
Design of a base, analysis method and use case for open data platforms Asian Industry-Government-Academia Data Strategy Research Consortium
Satoko OKI
Associate Professor, Faculty of Environment and Information Studies
Design of a base, analysis method and use case for open data platforms Asian Industry-Government-Academia Data Strategy Research Consortium
Keisuke Uehara
Associate Professor, Faculty of Environment and Information Studies
Design of a base, analysis method and use case for open data platforms Asian Industry-Government-Academia Data Strategy Research Consortium
Masaki Umejima
Project Associate Professor, Graduate School of Media and Governance
Design of a base, analysis method and use case for open data platforms Asian Industry-Government-Academia Data Strategy Research Consortium