EEN: Electronic edutainment and its network
* This laboratory has been completed.
V-PALS (Video-Production At Light Speed/next-generation video production system), a core project of EEN, aims to construct a single system that can quickly, easily and smoothly process all steps from planning, production, editing and packaging of all digitized video media.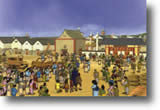 Background
The advent of the computer has widened the possibility of expression with such visual media as movies, television, games, Internet, animation, etc. that have dramatically grown in recent years. Digitalization of production processes has improved individual expression techniques and work efficiency.
Challenges and features
This, however, has not been successful in improving the "total" efficiency of the production process from preparation, production to utilization. This is because the compatibility of material data is insufficient, wasting time and processes when shifting from one process to another even in a single genre, not just in production extending beyond more than one genre. As almost all media materials such as video, text or audio are circulating in the form of zeroes and ones on the networks, materials should be able to be handled smoothly at video production site as well to improve total production efficiency. This idea resulted in the V-PALS project.
Current status
After hearing from leading video productions in Japan, the asterisk project is to develop a script editor, a kind of storyboard editor where digitization has not yet occurred. This also includes a scenario engine and a diorama engine.
Expected results
Results of this project will be a video production system built from the point of view of producers and directors and unique video contents generated in Japan using this system. This will result in not only video productions but also participation of companies that have sections that use video images for public relations or training.
Researchers, managers and professors
Nobuo Saito

Director

Vicepresident, Board of Trustees,
Professor, Faculty of Environmental Information(*)
Makoto Arisawa
Professor, Faculty of Environmental Information(*)
Hajime Ohiwa
Professor, Faculty of Environmental Information(*)
Mitsuru Kaneko
Lecturer, Faculty of Environmental Information(*)
(*) Renamed to "Faculty of Environment and Information Studies" in 2007