Healthy Life Style and Food Consortium
Healthy Life Style and Food Consortium
Director

Tatsuya Hagino

Professor Faculty of Environment and Information Studies

Contact

Faculty of Environment and Information Studies
Tel:0466-49-3598
■Objectives
Impacted by a declining birthrate and increasing aged population, medical expenses in Japan today have reached ¥60 trillion per year. In order to bring this down, we need to reduce how often we get sick and visit the doctor, if even only a little. To do this we need to be able to stay healthy in our daily lives. And an important part of keeping healthy is the meals we eat everyday. Meals and the food we eat also play an important part in overcoming lifestyle diseases such as diabetes.
When considering treatment for patients with diabetes, the following four components need to be aligned: 1) patients and physicians, 2) facilities and technicians that conduct detailed analysis on patients' stool, 3) the provision of meals or food to patients, and 4) a management system for recommending necessary food to patients and their physicians in accordance with the objective. In regard to the first one, the participation of patients and physicians who support the aim of this research consortium will play an important part in achieving its overall objective, so we will select and solicit patients and physicians through the Japan Hospital Association or similar organization. For the second component, we will utilize the research outcomes of the Institute for Advanced Biosciences, Keio University and an associated startup company in Tsuruoka City, Yamagata that develop new analytical functions and offer analytical services. The provision of daily meals to patients will be addressed by developing and operating a system for providing and accurately managing the food patients need called the Medical Care Food System (MCFS). This system will be run in cooperation with hospital healthcare professionals such as registered dietitians and nurses. To determine what foods patients need, we will coordinate with food and pharmaceutical companies both within and outside Japan to develop candidate foods and medication. And since food companies will need to develop new ingredients in addition to using existing agricultural and marine products, we are considering partnering with a research institute associated with the Ministry of Agriculture, Forestry and Fisheries
The first example of this consortium's efforts is a plan to tackle the lifestyle disease of diabetes. Everyday dietary habits are crucial for maintaining a healthy lifestyle. If food companies join this consortium, we will be able to tackle new themes such as developing new types of lactic acid bacteria, accurately measuring their effects, and enhancing and disseminating a system to manage their use. And since meals and treatment in hospitals will be an extremely important issue, registered dietitians and nutritionists will play an important role. In order to ensure these different components and people function together effectively, we anticipate that new medical systems for hospitals and other facilities will need to be developed, as well as medical information systems that utilize IoT, AI, and big data.
In this way, we expect that this consortium will branch out in many different directions in the future.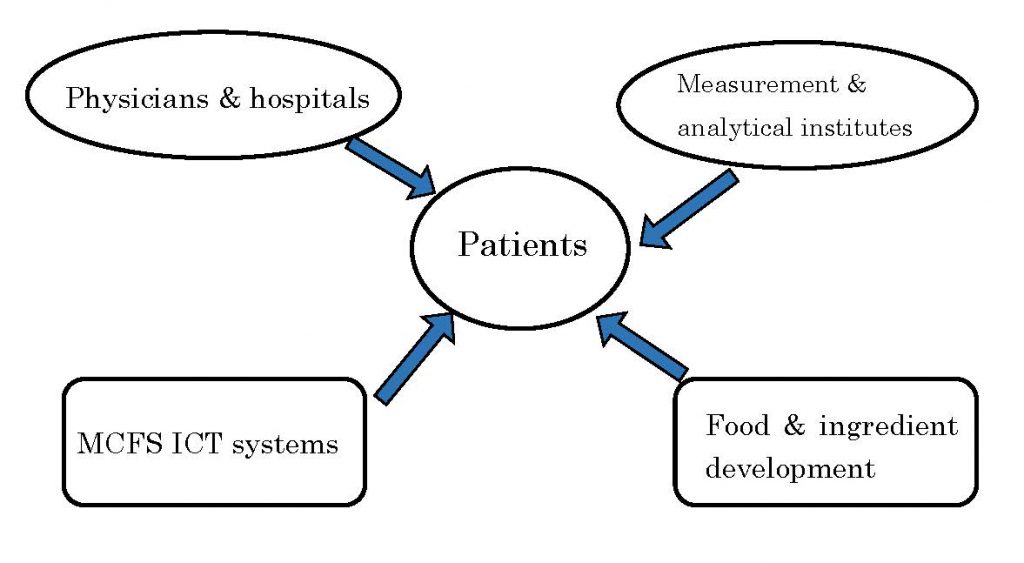 ■Overview of Research Activity Plans
1st year
Determine and start implementing the consortium's structure, bylaws, officers, governance model, research management model, method for acquiring members, assignment of staff, etc.
Work out details of the overall research plan
Establish research themes
Establish research groups
Develop measures to obtain research funds
Determine the specific structure and governance model of the consortium
Focusing on treatment of patients with lifestyle diseases (diabetes), develop a concrete plan and formulate and implement research plans for the following groups to facilitate it: patient and physician group, measurement and analysis group, food company group, and IT group
2nd year
Disclose the efficacy and relation of food to treatment of patients with lifestyle diseases (diabetes) to member companies and other organizations, and facilitate the development and implementation of future agendas.
Expand the participants of the lifestyle disease (diabetes) physician and patient group, and continue moving forward with the initial plan.
Implement the Medical Care Food System (MCFS)—a system for accurately managing the provision of food patients need.
Facilitate planning and setting development agendas for hospital IT systems
Deliberate, formulate concrete projects, and develop action plans with the food company group and measurement and analysis group on the relationship between food and treatment in patients with lifestyle diseases other than diabetes.
Formulate plans for the development of new effective food ingredients and other initiatives with food experts (Ministry of Agriculture, Forestry and Fisheries research centers, physicians, registered dietitians, and research divisions of food companies), and present an overview of the course of action to implement said plans.
3rd year
Expand the participants of the lifestyle disease (diabetes) physician and patient group, and continue moving forward with the initial plan.
Continue to facilitate the development of hospital IT systems to support medical facilities. Facilitate specific measures and the development of prototypes to improve the sophistication of such systems by utilizing new technologies, namely IoT, AI, and big data
Work out details of agendas related to food and health, and evaluate how close the consortium has come to meeting its initial goals, such as training healthcare professionals and further promoting their activities, developing foods, improving sophistication of measurement and analytical technology, and providing support via IT systems
Deliberate on issues such as whether to continue moving forward with the initial consortium plan, expansion of agendas, future plans for related industries and other issues, research funding, and expansion of consortium members, and develop plans for the future of the consortium.
Researchers, managers and professors
Tatsuya Hagino

Director

Professor Faculty of Environment and Information Studies
Toru Takebayashi
Dean/ Professor, Graduate School of Health Management Faculty of Medicine Professor
Masaru Tomita
Director, Institute for Advanced Biosciences, Professor Faculty of Environment and Information Studies
Nobuo Saito
Professor Emeritus