HUMI: HUmanities Media Interface
* This laboratory has been completed.
HUMI (Humanities Media Interface) project involves the "introduction of new information processing + transmission methods for research in the field of humanities". By introducing digital technologies into such humanities as literature, art and history, this project aims to design a "Research Museum" as a Humanities Research Information Center.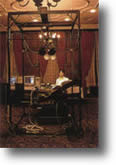 Background
This project was started when Keio University had the opportunity to obtain a copy of the Gutenberg Bible in 1996. Its activities have already continued for four years led by staff from the Faculties of Literature, Science and Engineering and Environmental Information(*).
Features
The HUMI project is mainly operated by a research group involved in the field of humanities (digital philology group). In addition, this group exchanges information with famous research libraries abroad in order to establish a global standard.
Challenges
In order to build a research museum that has mainly Western, Japanese and Chinese old books, research is being conducted on storage methods for old books, validation of digital image input technologies, development of technologies on image information management and issues related to intellectual properties owned by multiple groups.
Research plan
Through the digitization of old materials in Japanese and Chinese and in Western languages, the problems of material storage, digitization methods, and image management will be practically solved to develop a research tool.
Current status
This project promotes digitization of the Gutenberg Bible in foreign countries and accumulates know-how on various digital archiving techniques by cooperating in the demonstration experiments of the pilot electronic library conducted by the Information-Technology Promotion Agency (IPA).
Expected results
Methods of accumulation, arrangement, production or transmission of humanities information shall be established and a Keio University humanities research museum will reflect the results.
Researchers, managers and professors
Masatoshi Shibukawa

Director

Professor, Faculty of Environmental Information(*)
Kenji Naemura
Professor, Graduate School of Media and Governance
Youichi Washimi
Professor, Faculty of Letters
Toshiyuki Takamiya
Professor, Faculty of Letters
Kimio Hosono
Professor, Faculty of Letters
Toshimi Matsuda
Professor, Faculty of Letters
Andrew Armour
Professor, Faculty of Letters
Shigeaki Iwai
Faculty of Letters
Shinji Ozawa
Professor, Faculty of Science & Technology
Hidenari Inoue
Professor, Faculty of Science & Technology
Masaaki Kashimura
Researcher, HUMI Project
(*) Renamed to "Faculty of Environment and Information Studies" in 2007