Internet Car
* This laboratory has been completed.
Mobile communication will be the leading type of digital communication in the 21st century. This research pursues the relationship between the Internet and automobiles in a more concrete and flexible approach in order to gain successful results in this field.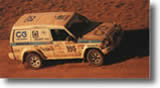 Background
Since the Internet is continuing to grow as a base for exchanging and storing different kinds of digital information and to support the information society, widening the Internet information base to include mobility is becoming an important challenge. This project regards automobiles as the first step to implement such an environment.
Every computer needs a battery. In a natural disaster like the Great Hanshin Earthquake that hit Kobe in 1995, all sources of power were cut off and the automobile played an active role as a power source. Information on disaster victims was sent to the world via Internet attracting attention as a communication tool during a disaster. But, the fact that automobile batteries were used to power computers so that they could continue to receive and send information is not widely known. In addition, since automobiles can move freely, they will play an important role in the mobile environment.
Challenge
The aim of this project ranges from connecting automobiles to the Internet to expanding the Internet world to a wide variety of mobile bodies. The project shall clarify possible problems and present solutions for them. Research fields include:
1 Research on utilization of geographic positional information on the Internet
2 Generation and support of geographic positional information
3 Review on computing environment (hardware and software) suited for installation in a car
4 Applications that take automobile and Internet environment into consideration
5 New forms of mobile bodies
Features and research plan
The project will establish an information base appropriate for mobile bodies in cooperation with R&D sections extending over different business fields and develop various applications and new communication forms. Objectives for review include application of wireless technologies, relationships between dynamically moving computers or mobile computer networks such as networks in automobiles and the Internet, to proceed with research on protocols, file systems and movable transparency that shall be appropriate for unstable wireless links. In addition, research and development of specific technology in each research fields shown above will be promoted and we will present a new Internet architecture that is conscious of mobility. These research activities will be enabled through an Internet mechanism installed in an automobile in demonstration experiments and the information infrastructure on the Internet that supports it.
Current status
Currently the members of this consortium include communications, automobile, geographic information and computer companies. We are actively engaged in constructing a comfortable information base in a mobile environment.
Expected results
By connecting automobiles to the Internet, we integrate information-oriented automobiles, mobile communications, and mobile computer environmental technology to build a mobile communication environment.
Researchers, managers and professors
Jun Murai

Director

Executive Director, Keio Research Institute at SFC
Professor, Faculty of Environmental Information(*)
Osamu Nakamura
Associate Professor, Faculty of Environmental Information(*)
Keisuke Uehara
Assistant Professor, Graduate School of Media and Governance
(*) Renamed to "Faculty of Environment and Information Studies" in 2007