MMNET:MultiMedia Learning NETwork
* This laboratory has been completed.
This project conducts research and development including building and fulfilling new learning environments at the university based on the progress of multimedia and computer network technologies as well as the practical evaluation of the results.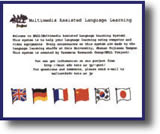 Background
The progress of multimedia and computer network technologies in recent years has led to an increasing need for research and development that organically links techniques for creating contents or courseware to that of new learning environments using computers.
Challenges
To establish a learning environment for multimedia based not only on system development technologies but also on educational methodologies of teachers.
Features
This project rests on two pillars: the teaching of foreign languages based on an international standard and the teaching of information processing appropriate for computerization. Technically speaking, it is active learning that includes such activities as pronunciation practice, classes deal with real life and a focus on mobile technologies.
Current status
The laboratory has been developing an authoring system (MIO) including systems for information processing education on the UNIX platform and a foreign language education system, called MALL (Multimedia Assisted Language Learning), also operable on UNIX. MALL has recently become Windows compatible. Educational materials that use MALL include Chinese, German, French and Spanish versions and all of these are currently being used in actual classes at SFC.
Expected results
We expect to obtain specific knowledge on how to use multimedia and computer networks for education or learning, and to develop various authoring systems and courseware.
Researchers, managers and professors
Nobuo Saito

Director

Vicepresident, Board of Trustees,
Professor, Faculty of Environmental Information(*)
Michiaki Yasumura
Professor, Faculty of Environmental Information(*)
Tatsuya Hagino
Professor, Faculty of Environmental Information(*)
Takashi Hattori
Associate Professor, Faculty of Environmental(*)
Jun Shigematsu
Professor, Faculty of Policy Management
Junichi Yamamoto
Professor, Faculty of Environmental Information(*)
Fumiya Hirataka
Professor, Faculty of Policy Management
Ikumi Waragai
Associate Professor, Faculty of Policy Management
Atsuko Koishi
Professor, Faculty of Policy Management
Takahiro Kunieda
Associate Professor, Faculty of Policy Management
Yuji Ohgi
Assistant Professor, Faculty of Environmental Information(*)
(*) Renamed to "Faculty of Environment and Information Studies" in 2007