Sharing Human Intellect Project
* This laboratory has been completed.
Keio University has 2,600,000 students, graduates and alumni members ("jukuin"). All have been actively working with the alumni association (Mita-kai Alumni Network). Not only looking back at the past, but to improve the quality of these activities for the future. To be socially-oriented, information needs to be shared between the university and alumni members.
The demonstration research for building an effective digital network to enable this is called the "Sharing Human Intellect Project" (SHIP).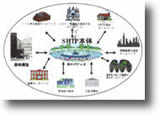 Features
What is unique about SHIP is that it is operated by around 500 individual volunteers who participate in this project. The range of ages of the participants is approximately 50 years. Participants access from both within Japan and from abroad. They access the database in the member forum (closed area) and hold meetings with a higher security level and exchange opinions.
Ideas, objectives, challenges
The basic idea is to fuse universities and society. By combining knowledge accumulated in the university and the latest knowledge of its graduates with rich social experience, SHIP aims to build a new intellectual conglomerate. Another concrete challenge is to develop network technologies and contents that everyone can easily use based on developing technologies.
Research plan
We have been engaged in developing systems that place fewer burdens on clients. Development has also started on establishment of a simple video/audio system or a system that allows accesses from anywhere without a computer by fusing the system with mobile phones.
Current status and future directions
The web site of SHIP set the stage for the Mita-kai Alumni Network (official alumni association of Keio University) to start to use the network. Several generations are using SHIP despite the fact that some were reluctant to even open their own web sites. Using SHIP as a base, members of the 112th annual Mita-kai (graduates of 1971), SFC Mita Association, Mita Lawyer Association, Mosaic Law Mita Association, Information Business Mita Association (14,100 members in total) are accessing and widening their information network. It is more than just a link. By utilizing the same databases, mutual usage of information among various organizations has been enabled while maintaining the independence of each. A free, multi-layered expansion function of this system will make a new style of communication possible. This project has shifted from the basic research phase into the applicable operation phase. As a result, the Faculty of Nursing and Medical Care was established at SFC. An example of operations include a SHIP sub-project on aging problems such as health care by using the information integration function of this system. We welcome many new participants to further advance the system.
Researchers, managers and professors