SOHOT: Small Office Home Office and Telework
* This laboratory has been completed.
This project seeks new businesses that support individual lifestyles based on the "lifestyle-environment design theory for human-environment systems" that are best suited to today's lifestyles that combine Information Technology (IT) and space. At the same time, we are seeking SOHO lifestyles (designs) that will help next-generation industries understand the future of cutting-edge information technology and changes in actual space.
In the course of such a structural change, it is important to establish global standards for digital image creation, digital distribution, digital projection systems, etc, and to foster human resources in such fields as production, distribution, movie theaters and other movie-related organizations. Broadcast media and net distribution organizations can then support the digital contents industry in Japan so that it becomes a global success. This consortium aims to support development and promotion of the digital cinema industry through research and development of different aspects of the industry.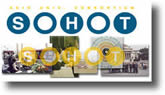 Background
The lives of human beings and the environment around them are closely linked; both are directly connected and manipulated by information. Our work, living and public areas must be planned and designed according to the users' lifestyles and how the concept of "information" related to those areas flows into such spaces. We aim to find what constitutes a comfortable lifestyle or an ideal activity environment in the next-generation cyber society, or SOHO lifestyle. We intend to establish a new lifestyle industry that supports cyber society.
Project Development and Section Meetings
This project consists of the "Life + Work Style Main Research Meeting" that researches the ideal form for a comfortable "life + work style" from the viewpoint of humans while aiming to fuse the development of information technology with physical space (IT+SPACE). The "Section Meeting" (mini project) conducts demonstration experiments based on the concepts and theories obtained by the previous section.
At the "Life + Work Style Main Research Meeting", we aim to implement a "global local community" and prepare a SOHO "manifesto" that promotes new values and lifestyles. This will come about from the research into the next-generation life + work style, research on the next-generation cyber society, support plans for individuals in society, review of IT industry of the past and the present from the viewpoint of SOHO.
Current section meetings and developments are as follows:
1 Research on spaces that utilize IT technologies, public area design for external public information areas and semi-public spaces
2 Design research of "super offices"; research on establishing a comfortable environment and creative workspaces including "super offices" that allow a higher level of decision-making for SOHOs by receiving/sending information in real-time.
3 SOHOT-IT design-Conducts research on IT systems that innovate SOHOT towards an industry-wide IT revolution as well as research on specific SOHOT IT systems based on the concept that human resources will be the key to the 21st century.
In addition, targets of review include the home design section meeting that conducts research on life + work style as well as ideal houses that use IT technologies.
Expectations of participating members
We would like to see companies who are involved in creating, designing or engaged in business related to new office space and lifestyles + city space as well as public offices + related companies engaged in design and supply of public spaces. We also welcome individuals, researchers and designers that are interested in next-generation work styles and lifestyles.
Researchers, managers and professors
Nobuo Saito

Director

Vicepresident, Board of Trustees,
Professor, Faculty of Environmental Information(*)
Kenji Kumasaka
Professor, Faculty of Environmental Information(*)
Iwao Kaneyasu
Professor, Faculty of Environmental Information(*)
Akiko Watanabe
Assistant Professor, Graduate School of Media and Governance
(*) Renamed to "Faculty of Environment and Information Studies" in 2007