Digital Construction Consortium
Objectives
In recent years, non-standardized component production technology has been developed in the field of architecture through applications of digital technology towards the building production, and efficient and organizational constructive concepts of complicated shapes and forms have become possible through design computerization technology such as BIM, etc. Although Japan's industrialized construction technology ranks among the best in the world, technology for supporting the efficient construction of non-standardized components is an undeveloped field being challenged worldwide. If the digital construction technology of non-standardized components is established, then it will become possible to secure the accurate construction of architectural forms that do not depend on rectangular box shapes, improve safety during construction, simplify temporary structures and lifting, and accelerate the speed of construction. This will lead to reduced costs in constructing buildings that are currently thought to be unique. It is believed that these efforts will lead to architectural shapes with more freedom, and generate new value such as sustainable and more user-friendly buildings in a more productive way.
Most importantly, digital construction technology such as 3-dimensional construction guidance technology, construction robotics technology, and technology promoting the IoT of components are key technologies that will innovate conventional standardization, and a consortium organization for academic-industrial collaboration is required to concentrate the efforts to develop these technologies. Digital construction is a concept that should become a pillar in line with digital design and digital fabrication, and these three pillar concepts are thought to have a great influence on construction technology, design, economic efficiency, social usefulness and significance. There have already been efforts in the building production engineering division in the form of computerized construction, but through the medium of BIM and by circulating data that fuses these three, new value generation and comprehensive innovation of construction technology that goes beyond "productivity improvement" is expected and thought to be highly compatible with research being conducted at SFC.
One of the objectives of the consortium is to drive demand by returning the possibility of new designs born from digital construction technology back to society, while at the same time becoming a training facility where the consortium serves as the starting point of each application project and has opportunities for human resource development and creating networks for talent who can be active particularly in this field such as graduate students, researchers of Keio Research Institute at SFC, specially appointed faculty members, etc.
Outline of research activity plans
Research period: June 1, 2016 – March 31, 2017
June 2016 Digital construction consortium inauguration meeting
(extraction of key technology & solidification of research topics)
Sept. 2016 Start of original preceding studies regarding key technology
Dec. 2017 Start of preparations for individual sponsored research
March 2017 Final meeting to report the results of the first year research
*Plan to hold a project review meeting once a month for next fiscal year.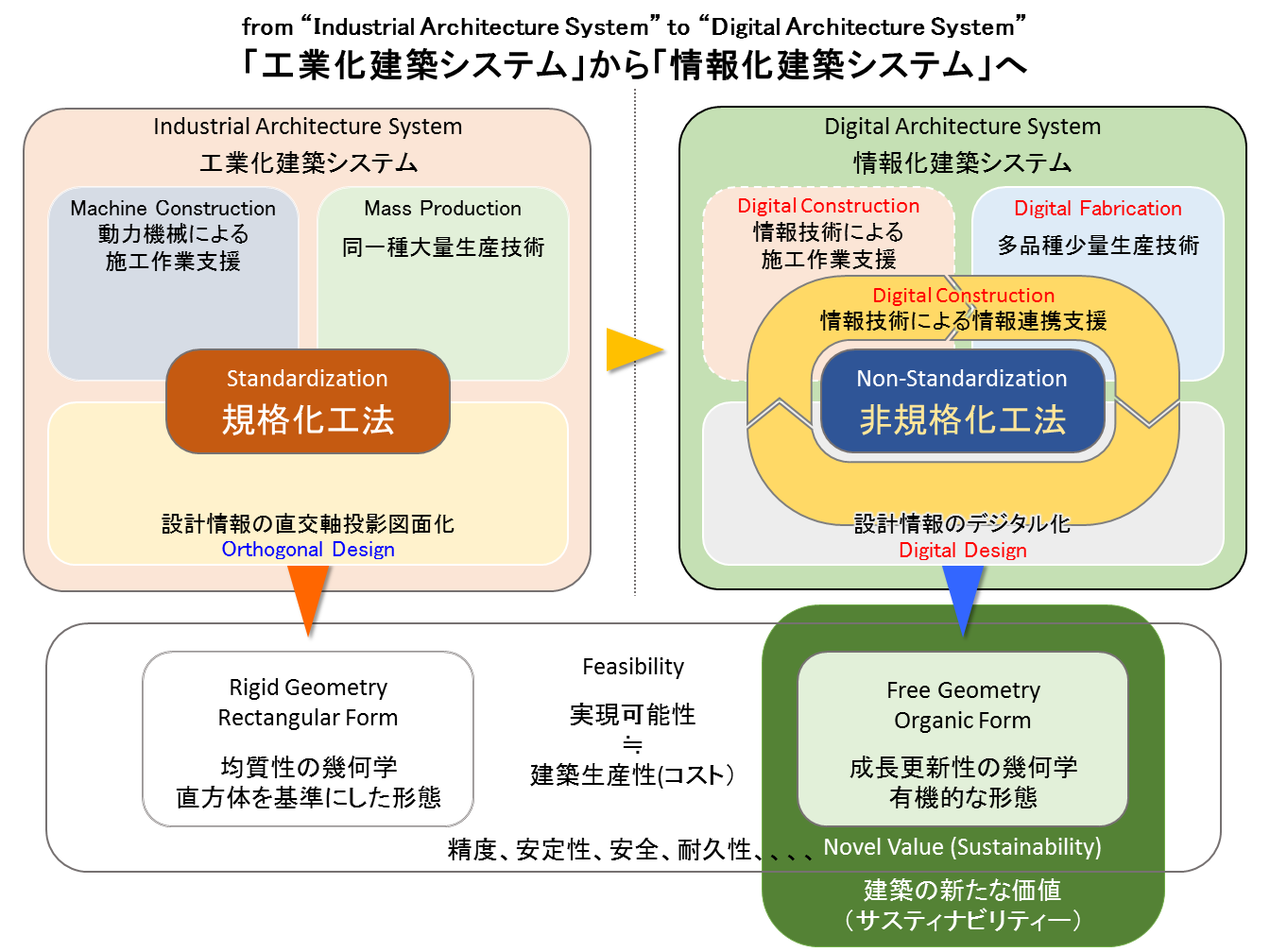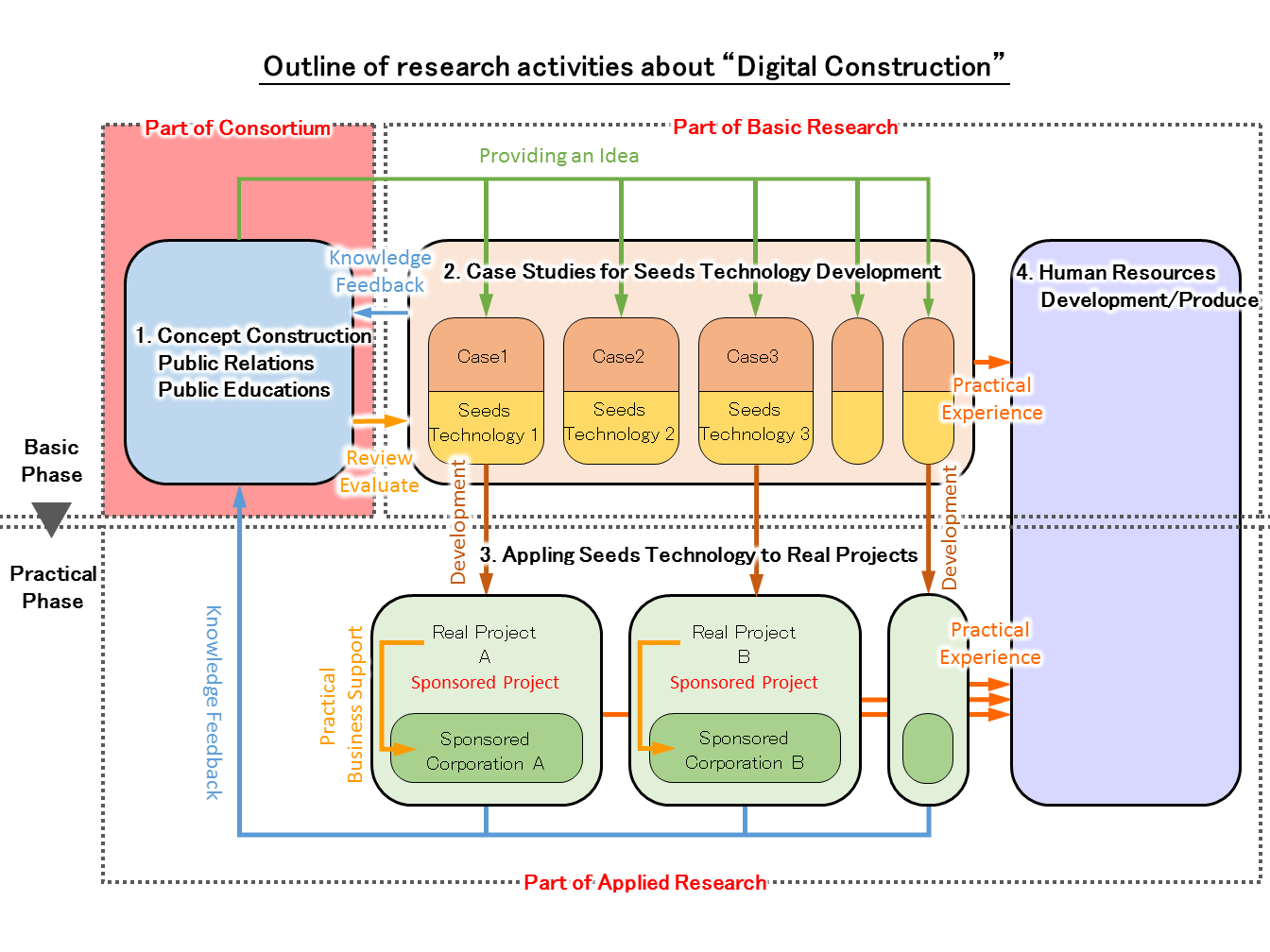 Researchers, managers and professors
Yasushi Ikeda

Director

Professor, Graduate School of Media and Governance
Consortium supervisor & research supervisor
Research & development of building design support systems based on digital construction
Shohei Matsukawa
Associate Professor, Faculty of Environment and Information Studies
Applied research of robotics technology for digital construction focusing on wooden buildings
Yuichi Abe
Project Research Associate, Graduate School of Media and Governance
Research & development of building design support systems based on digital construction
Kensuke Hotta
Project Research Associate, Graduate School of Media and Governance
Research & development regarding the possible applications of general IoT technology in digital construction technology
Participating Companies
AppliCraft Co.,Ltd.
NTT FACILITIES,INC.
Autodesk Ltd. Japan
KOZO KEIKAKU ENGINEERING Inc.
Shibaura Institute of Technology
TAISEI CORPORATION
Takenaka Corporation
noiz architects
NOHARA CO.,LTD.
Hibiya Engineering, Ltd.
FORUM8 Co.,Ltd.
Muse Planning, Inc.
Unity Technologies Japan G.K.