Consortium of co-creation for drone society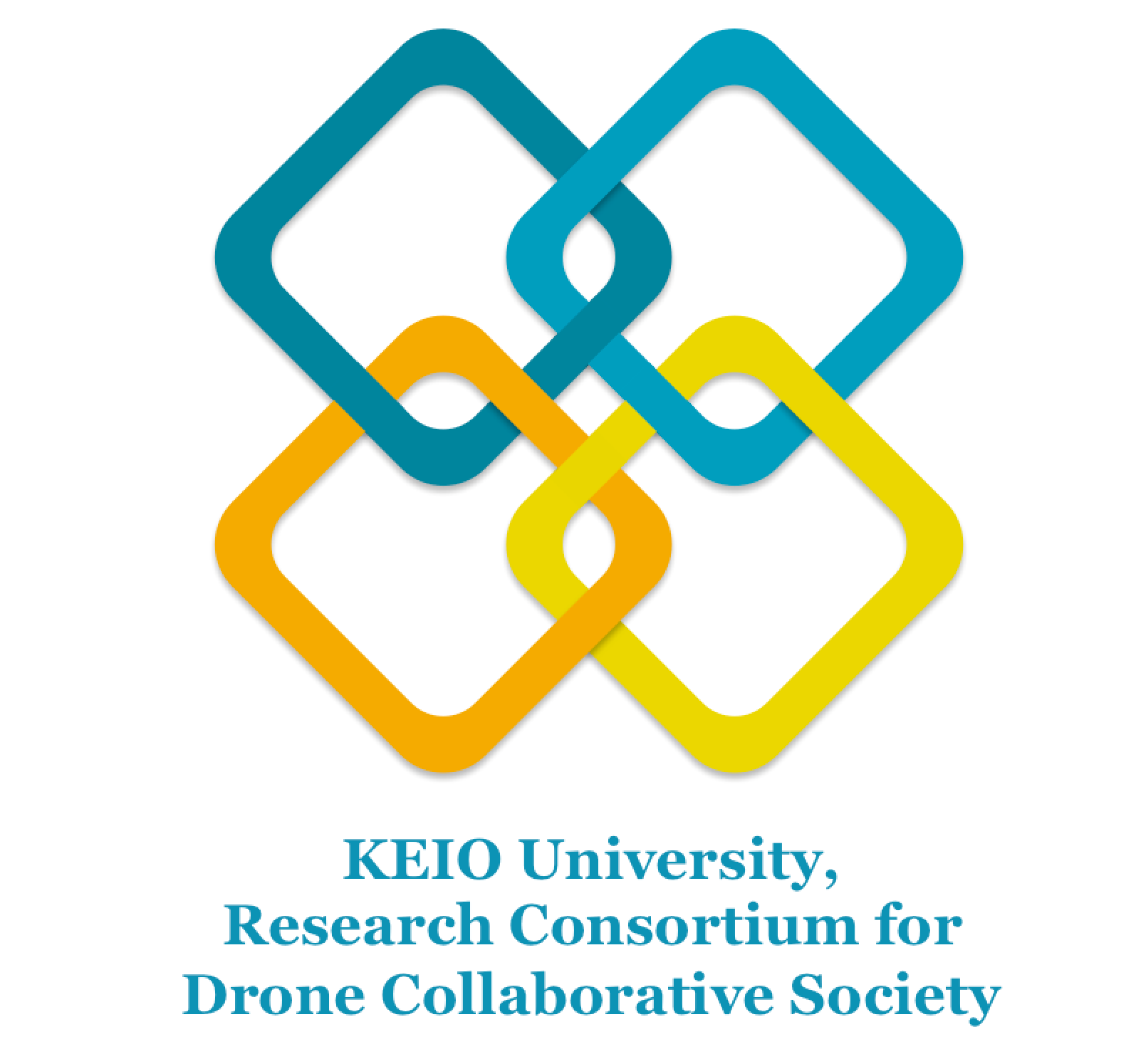 Objectives
The deregulation of the commercial use of drones in the U.S. in 2015 has spurred the use and application of drones around the world. In Japan, the implementation of the amended Civil Aeronautics Act in December 2015, which was premised on the use of drones, has inspired expectations towards the acceleration of legislative system development and industrial use. Drones are expected to be "the industrial revolution of the skies" and its market size is expected to be around 10 trillion JPY globally, and 100 billion JPY in Japan. Although industry-academia consortiums centered around drone technology continue to be created domestically, research and education regarding how a "drone society" will be created on the premise that Japan is a society with a declining population, and how the business application/system design/social implementation of drones will be promoted is still insufficient. It also cannot be said that an international research and education center for drones based in Japan has been formed.
This consortium aims to promote the research and education listed below with an aim to create a drone society through collaboration between industries, government and academia. By doing so, this consortium wishes to make SFC an international center of excellence for drone studies in Japan.
Resolution of social issues using drones (medical care, health, environment, disaster prevention & mitigation, public works, construction, agriculture, etc.)
Drone business (collaboration between industries, government and academia)
Drone-related system designs (deregulation, insurance systems, security)
Development of drone application technology
Drone education (establishment of lectures and practicums in postgraduate and undergraduate programs)
The SFC is not only designated as a national strategic special zone, a special zone for robots, and a life innovation special zone, but is also located away from densely inhabited districts (DID) where the flight of drones is restricted, which makes the SFC a suitable location to develop drone-related research and education. Its research object space exists in both cyber space and the physical space of land, sea and air.
This consortium specifically plans to carry out the activities listed below:
Education
(a) Drone-related curriculum development targeting the Faculty of Policy Management, the Faculty of Environment and Information Studies, as well as the Graduate School of Media and Governance.
(b) Holding drone study groups both within and outside the university (around 4 to 6 times a year)
(c) International cooperation with overseas universities regarding drone education
Research
(a) Applied research towards the fields of medical care and health
(b) Applied research towards the fields of environment and public works
(c) Applied research towards urban and rural areas
(d) Applied research towards the fields of homeland security, as well as disaster prevention and mitigation
(e) Media applications
(f) Drone business research
(g) Creation of new social services
Using education & research results to contribute back to society, and suggestions to society
(a) Holding symposiums
(b) Holding drone festivals and drone races
(c) Collaboration with national and local governments
Outline of Research Activity Plans
(From December 2015 to December 2016)
The activities listed below will be developed during the first year:
Education
– Drone-related curriculum development at SFC
Research
– Applied research towards the fields of medical care, health, homeland security, as well as disaster prevention and mitigation
– Media applications
– Drone business research
– Drones and fabs
– Basic research related to the creation of new social services
Contributing back to society
– Holding drone festivals and drone races
– Holding symposiums
– Collaboration with national and local governments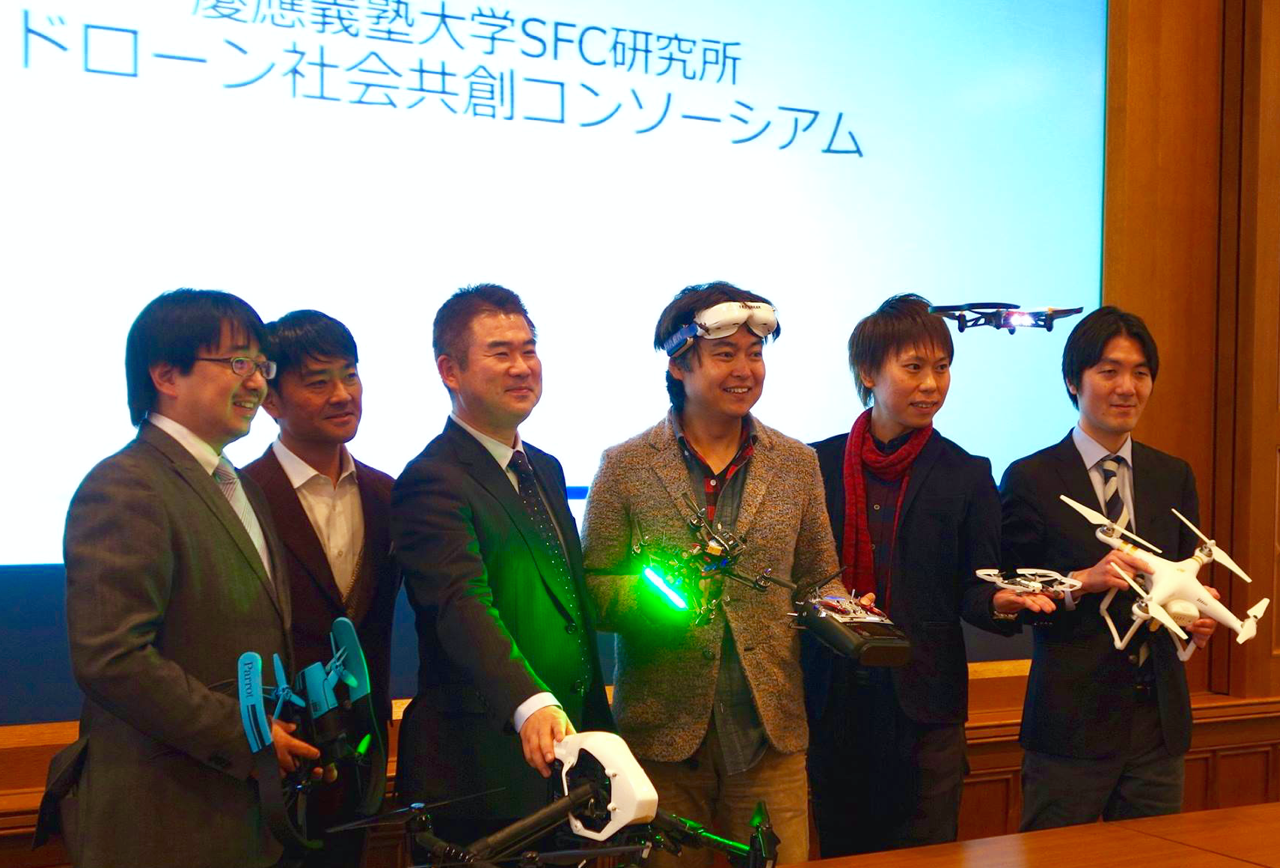 Researchers, managers and professors
Tomoyuki Furutani

Director

Professor, Faculty of Policy Management
Consortium representative
Yasushi Kiyoki
Professor, Faculty of Environment and Information Studies
Consortium co-representative, collaboration with GESL
Jun Murai
Professor, Faculty of Environment and Information Studies
Internet and drones
Michio Umegaki
Professor Emeritus
Drones and security
Hideyuki Tokuda
Professor Emeritus
Application of drones for social services
Yoshiyasu Takefuji
Professor, Faculty of Environment and Information Studies
Application of drones for social services
Wanglin YAN
Professor, Faculty of Environment and Information Studies
Application of drones in the fields of environment, disaster prevention, and public works, and international collaboration
Fumio Shimpo
Professor, Faculty of Policy Management
Robot laws
Tomohiro Ichinose
Professor, Faculty of Environment and Information Studies
Application of drones in the fields of environment and disaster prevention, collaboration with EDGE
Manabu Omae
Professor, Graduate School of Media and Governance
Professor, Faculty of Environment and Information Studies
Merging of autonomous driving technology with drones
Yasushi Ikeda
Professor, Graduate School of Media and Governance
Professor, Faculty of Environment and Information Studies
Application of drones in the field of construction
Keisuke Uehara
Associate Professor, Faculty of Environment and Information Studies
Drones and environmental measurements
Kazunori Takashio
Professor Faculty of Environment and Information Studies
Fusion of drones and robotics
Ken Jimbo
Professor Faculty of Policy Management
Drones and security
Hiroya Tanaka
Professor, Faculty of Environment and Information Studies
Fusion of drones and fabs
Jin Nakazawa
Professor, Faculty of Environment and Information Studies
Drones and environmental measurements
Shohei Matsukawa
Associate Professor, Faculty of Environment and Information Studies
Application of drones in the field of construction
Masaki Minami
Project Assistant Professor Graduate School of Media and Governance
Application of drones in the fields of medical care and health
Mitsuteru Tashiro
Project Associate Professor, Graduate School of Media and Governance
Media application of drones
Satoru Itagawa
Project Research Associate, Graduate School of Media and Governance
Application of drones in the fields of environment and disaster prevention
Shiori Sasaki
Project Associate Professor, Graduate School of Media and Governance
Drones and environmental databases
Yasuhiro Hayashi
Project Assistant Professor, Graduate School of Media and Governance
Drones and image databases
Kotaro Chiba
Senior Researcher, Keio Research Institute at SFC
Executive Director, COLOPL, Inc.
Drone business
Shintaro Takahashi
Project Assistant Professor, Graduate School of Media and Governance
Digital Hollywood University, Graduate School
Media application of drones
Shiro Inoue
Senior Researcher, Keio Research Institute at SFC
Application of drone race for entertainment
Yoshichika Sakamoto
Researcher, Keio Research Institute at SFC
Media application of drones
Michihiro Kobayashi
Researcher, Keio Research Institute at SFC
Drone research in Tamura city