e-Care Consortium
* This laboratory has been completed.
The purpose of this consortium is to contribute to society by gathering experts in health care, medical care, nursing, welfare and information technology to create and communicate knowledge and expertise in the field of "e-Care." It will be based on the findings from the "e-Care Town Project."
Background
For two years beginning FY 2002, the Faculty of Nursing and Medical Care at the Shonan Fujisawa Campus (SFC) of Keio University took the lead in conducting the "e-Care Town Project," a demonstration experiment in the nursing care and welfare field that was part of the "e!Project" (a project designed to show the people of Japan and of the world the image of the world's most advanced IT nation) conducted by the Ministry of Public Management, Home Affairs, Posts and Telecommunications. The demonstration experiment was run by four organizations: Keio University, the city of Fujisawa, Fujisawa City Health and Medical Foundation and NTT East. It enjoyed the widespread cooperation of the residents and businesses of Fujisawa. The "e-Care Town Project" marked a revolutionary step forward in the fusion of the nursing care and welfare field and advanced IT. As a community-led collaboration among the industry, government and academia, it was widely followed by local governments and interested businesses and achieved two primary results:
Collaboration with the local government and residents to build a demonstration experiment field
Confirmation of the potential for social change with the introduction of IT to the nursing care and welfare area.
Outline
"e-Care" uses advanced IT to help improve the "quality of life" (QOL) in many areas, including the health of people of all ages and their sense of community and society. (Figure 1)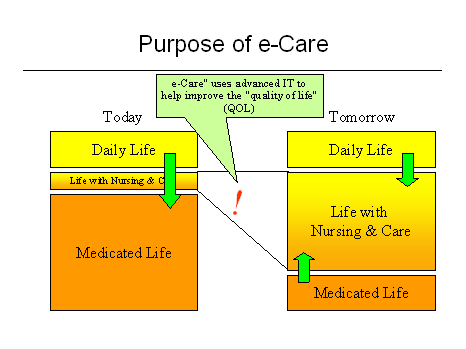 Figure 1
Demographic projections indicate that Japanese society will reach the "super-aged society" stage (in which the people aged 65 or older account for 25% of the population) about 2013. At the same time, steady progress continues to be made in computerization, and a wide range of Internet-based information technologies are becoming more accessible. In light of this, the consortium will build horizontal ties between experts and businesses in the areas of nursing, welfare,
medical care, IT and other fields to enable them to exchange and communicate information and propose new social systems, administrative techniques and business models. These activities will help to establish and develop an "e-Care" oriented health care community ("e-Care Town"). (Figure 2)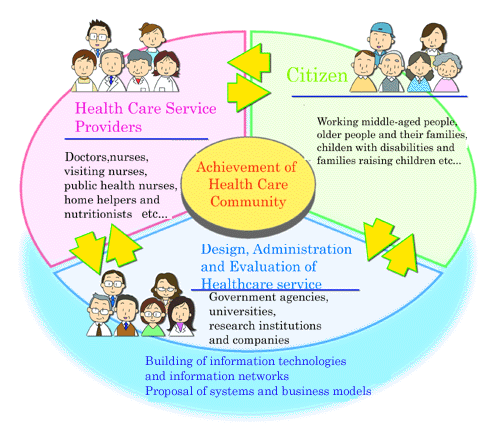 Figure 2
Topics of inquiry
Identification of the issues facing the health care field and proposal of IT-based solutions
Collection and organization of information on "e-Care" (IT-based health care, medical care, nursing and welfare) in Japan and other countries, creation of "e-Care Portal" (Figure 3)




Figure 3

Proposals for the achievement of "e-Care" and verification of their feasibility
Communication of "e-Care" research results accumulated by the consortium
Expected results
Collaboration with the local government, research and verification projects that monitor local residents
Implementation of joint research and testing with sponsoring companies
Return to society of "e-Care" demonstration test results
Creation of an "e-Care Town"
Communication of the "e-Care Town" model to other communities in Japan and other countries
Researchers, managers and professors
Kikuko Ota

Director

Dean/Professor, Faculty of Nursing and Medical Care
Jun Murai
Dean/Professor, Faculty of Environment and Information Studies
Hideyuki Tokuda
Chairperson, Graduate School of Media and Governance
Professor, Faculty of Environment and Information Studies
Jiro Kokuryo
Dean/Professor, Faculty of Policy Management
Masako Kaneko
Professor, Faculty of Nursing and Medical Care
Keiko Takenoue
Professor, Faculty of Nursing and Medical Care
Masahiro Kobayashi
Professor, Faculty of Nursing and Medical Care
Toshiro Otani
Professor, Faculty of Nursing and Medical Care
Etsuko Shindo
Associate Professor, Faculty of Nursing and Medical Care
Minako Shimegi
Associate Professor, Faculty of Nursing and Medical Care
Mika Chaen
Associate Professor, Faculty of Nursing and Medical Care
Shoko Miyagawa
Associate Professor, Faculty of Nursing and Medical Care
Emiko Yasuda
Associate Professor, Faculty of Nursing and Medical Care
Miki Kubo
Research Associate, Faculty of Nursing and Medical Care
Emi Kawakita
Research Associate, Faculty of Nursing and Medical Care
Yuji Ohgi
Associate Professor, Graduate School of Media and Governance
Associate Professor, Faculty of Environment and Information Studies
Ryoko Fukuda
Project Assistant Professor, Graduate School of Media and Governance
Miki Akiyama
Associate Professor, Faculty of Environment and Information Studies
Eiko Uchiyama
Project Associate Professor, Graduate School of Media and Governance
Masaki Minami
Part-time Lecturer, Faculty of Environment and Information Studies
Toshiki Nishiyama
Project Associate Professor, Graduate School of System Design and Management
Hisakazu Hada
Part-time Lecturer, Faculty of Environment and Information Studies
Keiko Okawa
Professor, Graduate School of Media Design
Ken Yamauchi
Associate Professor, Institute of Physical Education
Satori Nishiyama
Senior Visiting Researcher, Keio Research Institute at SFC