Research on advanced next-generation Internet architecture
* This laboratory has been completed.
This project conducts research and development based on Internet Protocol version 6 (IPv6), or the basic protocol for the next-generation Internet. This project also proposes and demonstrates Internet architecture as a basic media for the next-generation society.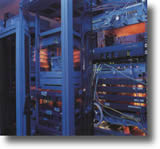 Background
Almost 30 years have passed since the beginning of the Internet and it has become much more popular in recent years than originally expected. This popularity has caused a shortage of IP addresses used to identify computers connected to the Internet and increase the amount of routing information from cross-links over many networks. This project is conducting research on the next-generation IPv6 using demonstration experiments to research, develop and demonstrate solutions for the problems described and create a desirable model for a new communication system or communication architecture.
Challenges
To research and develop the next-generation communication architecture, quite a few cases need to be implemented ranging from the base protocol system to applications that correspond to base protocol system. Also, more than one implementation system shall be developed independent of other implementation systems and evaluation on protocol implementation must be done separately to establish inter-network connectivity.
Features
To establish mutual connectivity and to evaluate protocol implementation, more than one development evaluation groups are engaged in research and development. They also are implementing and evaluating application interfaces and applications that correspond to the next-generation architecture.
Research Plan
Research will be conducted as follows:
Current utilization status of the Internet and analysis and abstraction of new Internet environment
Coordination with such bodies as IETF that work to implement conventional Internet architecture
Establishment of security and privacy technologies for such end systems as IPsec
Demonstration of a test bed together with the WIDE project joint research organization and joint development with related organizations
Establishment of an international experiment environment centered on the Asia-Pacific network infrastructure
Current status
Research and development are conducted for leading the international academic groups.
Expected results
By supplying a scalable, logical and meaningful environment that may cope with the increase in users, we believe a proper Internet architecture will penetrate into society.
Researchers, managers and professors
Jun Murai

Director

Vice-President
Professor, Faculty of Environment and Information Studies
Osamu Nakamura
Professor, Faculty of Environment and Information Studies
Hiroshi Esaki
Visiting researchers-Personnel (visiting), Keio Research Institute at SFC
Yuji Sekiya
Visiting researchers-Personnel (visiting), Keio Research Institute at SFC