SFC Venture Forum
* This laboratory has been completed.
The SFC venture forum is a project to research, propose and implement various mechanisms for establishing a society infused with a venture spirit. It will present new technologies and business models developed at SFC for the benefit of the whole society. Activities include opening a venture school that supports the establishment and conducting of business, coordinating information exchange with those companies that are interested in technologies or business models developed at SFC, providing business support and supplying the incubation function for SFC ventures.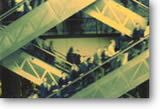 Features
In particular, SFC ventures may receive know-how on how to start a business, how to apply for business model patents, consulting services on management, information about capital support or support on publication of stocks as well as opportunities to interact with many other SFC ventures. Also, opportunities to exchange information with outside companies interested in venture business as well as those starting activities at Keio Research Institute at SFC will be provided. The outside companies, however, will have direct access to information of venture businesses about to be created at SFC by participating in this venture forum.
Researchers, managers and professors
Mitsuyo Hanada

Director

Professor, Faculty of Policy Management
Jun Murai
Vice-President
Professor, Faculty of Environment and Information Studies
Kenji Kohiyama
Professor, Graduate School of Media and Governance
Professor, Faculty of Environment and Information Studies
Yoshiyasu Takefuji
Professor, Faculty of Environment and Information Studies